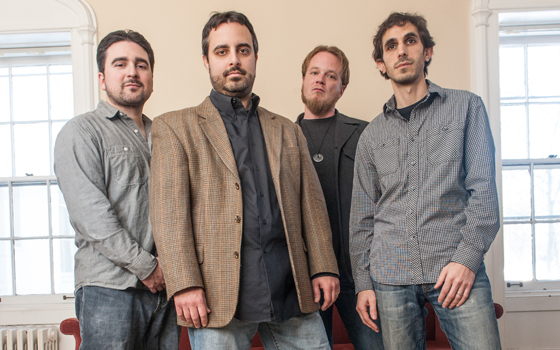 Stanley Maxwell
Sunday, March 1, 2015 at 3:00pm
The Russell House
FREE!
Click here to view photos from this event.
"Hearing this quartet bop their way through their own brand of modern jazz is like a cleanser for the overexposed mind, as the four players manage to create an ensemble-sized sound with a wealth of nuance and compositional thoughtfulness."
—Home Grown Music Network

The Connecticut-based quartet Stanley Maxwell plays original music that blends tight arrangements with intricate group improvisations. The conservatory-trained group of musicians features Andy Chatfield on drums, Mark Crino on bass, Eric DellaVecchia on alto saxophone, and Evan Green on piano.

The group has built a grassroots name for themselves at colleges and festivals throughout the northeast since 2001, combining the virtuosic and the simple into a visceral concoction, which helped lead to their winning "Best Jazz Band" in the Hartford Advocate's Grand Band Slam Readers' Poll in 2007, 2009, and 2010.

At Wesleyan, the band will present acoustic arrangements of original tunes from the past decade, including several world premieres.

Click here to listen to live shows by Stanley Maxwell and download them for free from the Internet Archive's Live Music library.

Click here to listen to Stanley Maxwell's interview on WNPR with Where We Live host John Dankosky, and their performance of the tunes "In The Shadow of Vesuvius," "Egg Sauce Ted," "Haulin' Notes," and "Mousetrap" in Studio 3.

Click here to listen to a recording of Andy Chatfield's interview on Stephan Allison's "River Valley Rhythms," and here to listen to Andy Chatfield's interview on Rob DeRosa's "Homegrown," both from WESU. Both interviews include audio of Stanley Maxwell performing his tune "Haulin' Notes" live at the Muddy River Smokehouse in Portsmouth, New Hampshire on 7/18/09.

Click here to listen to a recording of Andy Chatfield's interview on Maurice D. Robertson's "Accent on Creative Music" on WWUH.

And listen below to "Mousetrap," an eleven-bar blues influenced by Thelonious Monk from their debut album Don't Wake The Baby! The band's recording of the composition by pianist Evan Green attracted international attention, including "Mousetrap" winning "Best Jazz Song" in the 7th annual Independent Music Awards in December 2007.
For press about this concert, see Owen McNally's Jazz Corridor blog, News @ Wesleyan, CTNow.com/Hartford Courant, and the Middletown Press. 

This event is part of the Music at The Russell House series.

Images by Sandy Aldieri of Perceptions Photography.