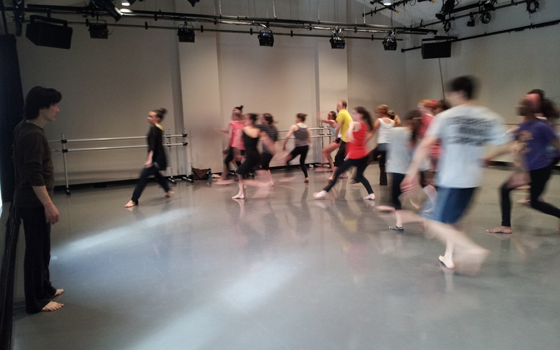 DanceMasters Weekend: Master Class - Eddie Taketa
Sunday, March 8, 2015 at 3:00pm
Cross Street Dance Studio
$19 per class, $13 for Wesleyan students
Sunday, March 8, 2015 from 3pm to 4:30pm
Eddie Taketa of Doug Varone and Dancers will teach a Master Class that will provide an opportunity for intermediate to advanced dance students and dance professionals to explore diverse dance techniques during DanceMasters Weekend.
Eddie Taketa has been a New York City-based dance artist since 1982, performing on countless stages throughout the world. He has been a member of more than a dozen dance companies, including the Murray Louis Dance Company, Nikolais Dance Theatre, Lar Lubovitch Dance Company, and the Jacob's Pillow's Men Dancers: The Ted Shawn Legacy. Additionally, Mr. Taketa maintained an extensive performing and creative collaboration with choreographer and dancer Janis Brenner. He has performed off-Broadway with the New York Shakespeare Festival, and danced for television with such artists as Michael Moschen, Tandy Beal, and Bobby McFerrin.

In 1994, Mr. Taketa joined Doug Varone and Dancers, and has since been an original cast member in twenty-eight of Mr. Varone's works, and nine operas and plays directed/choreographed by Mr. Varone. He has served as the company's Rehearsal Director, Education Program Director, Tour Manager, and Licensing and Staging Coordinator. He is a principal teacher in the company's workshops and intensives, and has staged Mr. Varone's works on over 30 companies and university programs. Mr. Taketa has served as faculty member and conducted numerous residencies, workshops, and master classes at universities, colleges, festivals, and studios throughout the U.S., Europe and Asia. Positions of note include Visiting Lecturer in the Program in Dance at Princeton University; Guest Artist at Connecticut College, the University of Iowa, and University of the Arts, Philadelphia; and serving on the faculties of the Bates Dance Festival, SUMMERDANCE Santa Barbara, and Glenwood Springs Dance Festival. Currently, he is on the faculty of Lehman College, The City University Of New York, and Montclair State University, New Jersey. Mr. Taketa holds a B.F.A. in Dance Theater from the University of Hawaii at Manoa, and is the recipient of a 1998 New York Dance and Performance Award (Bessie) for Sustained Achievement in Dancing.
DanceMasters Weekend is a two-day immersion in contemporary dance, featuring twelve Master Classes and a Choreographers Conversation.
A Weekend Pass, which includes five Master Classes, is $75 for the general public (plus a $6 class registration fee), or $55 for Wesleyan students.
Master Classes: Saturday, March 7, 2015 from 10am to 5pm
Master Classes: Sunday, March 8, 2015 from 11am to 4:30pm
Classes are designed for students with intermediate to advanced dance experience. Master Class teachers will incorporate technique and movement combinations from their repertoire.
Call 860-685-3355 or e-mail boxoffice@wesleyan.edu to join the DanceMasters mailing list.