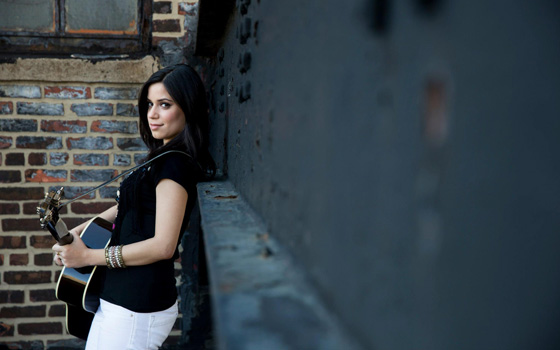 Omnia Hegazy
Friday, March 27, 2015 at 8:00pm
Crowell Concert Hall
$18 general public; $15 senior citizens, Wesleyan faculty/staff/alumni, non-Wesleyan students; $6 Wesleyan students
Click here to view photos from this event.
CFA Arts Administration Intern Chloe Jones '15 talks to singer-songwriter Omnia Hegazy on the Center for the Arts blog here. 

"Pop singer Omnia Hegazy tackles rules of Arab, Muslim communities one song at a time."
—FoxNews.com
Singer-songwriter Omnia Hegazy combines guitar-driven American pop/rock and maqam-based Arabic folk with charged lyrics about women's rights and political freedom, her faith, and the struggle to combat perceptions of Muslim women. She is a recent graduate of the Clive Davis Institute of Recorded Music at New York University's Tisch School of the Arts. The daughter of an Italian-Catholic mother and an Egyptian-Muslim father, she was born in California and raised on Staten Island. At Wesleyan, Ms. Hegazy will be accompanied for the first time outside of New York City by drummer Max Maples, bassist Carl Limbacher, electric guitarist Coyote Anderson, and Natalia Perlaza on Arabic percussion and tabla.

Download Omnia Hegazy's interview with Renee DiNino from "Celebrity Access" on The River 105.9 FM here.


The event is part of Muslim Women's Voices at Wesleyan.