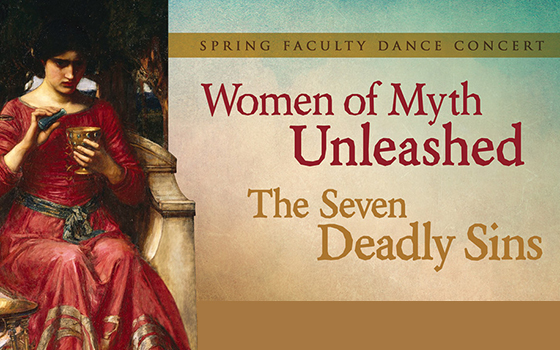 Spring Faculty Dance Concert: Women of Myth Unleashed/The Seven Deadly Sins
Friday, March 27, 2015 at 8:00pm
CFA Theater
$10 general public, senior citizens, Wesleyan faculty/staff/alumni, non-Wesleyan students; $5 Wesleyan students
Saturday, March 28, 2015 at 8:00pm
CFA Theater
$10 general public, senior citizens, Wesleyan faculty/staff/alumni, non-Wesleyan students; $5 Wesleyan students
Click here to view photos from this event.
Artist in Residence Patricia Beaman presents two exhilarating world premieres.
Ms. Beaman and renowned Baroque soprano Christine Brandes embark on a seminal collaboration of their own making, Women of Myth Unleashed. By juxtaposing the traditional form and mythological subject matter of the Baroque era with 21st century modern movement and contemporary issues, they bring the iconic mythological figures of Armide, Arianna, and Medea into sharp relief on stage. In Médée, Louis Nicolas Clérembault's cantata from 1710, Ms. Brandes and Ms. Beaman depict the bifurcated nature of Medea's tortured state, with electrifying music provided by Folia, an early music ensemble of stellar musicians.
Opening the second half of the evening is The Seven Deadly Sins, an inventive ensemble dance theater work choreographed and directed by Patricia Beaman. Radically re-envisioned as a production set in Weimar-era Berlin in the seediest of cabarets, this edgy Neo-Baroque work has been specially created for Wesleyan students as part of the "Repertory and Performance" course.