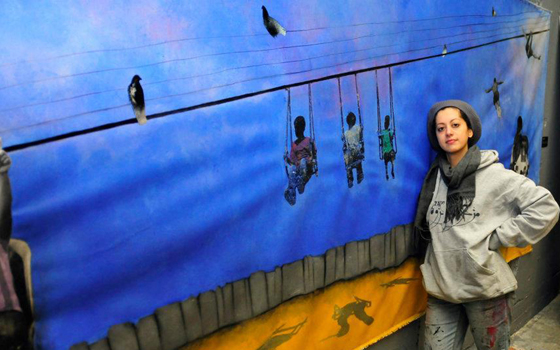 The Long Way "Home": Art, Change, and Imagination
Monday, March 30, 2015 at 4:15pm
Romance Languages and Literatures Lounge, 300 High Street

FREE!
Sundus Abdul Hadi
is an Iraqi-Canadian multimedia artist. She was born in the United Arab Emirates, and raised and educated in Montréal, where she earned a B.F.A. in Studio Arts and Art History and a graduate diploma in Communication Studies. Her work is a subversive and sensitive documentation of current crises in the Middle East, often using manipulated photographic imagery, mixed-media painting, artist books, and sound. Ms. Abdul Hadi is the co-founder of The Medium, a global multidisciplinary artist collective.
Her work has been exhibited in Palestine, the United Arab Emirates, Canada, the United States, France, United Kingdom, and Saudi Arabia. She has given workshops in Australia, Iraq, and Kuwait; and has been a speaker at Nuqat, the Arab Development Initiative, the Nobel Peace Prize Forum, and at multiple universities in Canada and the United States. Ms. Abdul Hadi is a two time recipient of the Conseil des Arts et des Lettres du Quebec Vivacité grant (2008, 2013).
Alongside her studio practice, Ms. Abdul Hadi also curates exhibitions, and hosts "Al Ruwad: The Groundbreakers," a radio show about art and culture on CKUT 90.3 FM in Montréal.
This artist talk will be followed by a Q&A and a reception.
Presented in association with
Muslim Women's Voices at Wesleyan
through Wesleyan University's
Center for the Arts
with the generous support of the Doris Duke Foundation for Islamic Art, and the Association of Performing Arts Presenters.
Sponsored by the Department of Romance Languages and Literatures' Thomas and Catharine McMahon Memorial Fund, the Center for the Arts, the Allbritton Center for the Study of Public Life, Muslim Students' Association, Middle Eastern Perspectives, Wesleyan Student Association, and Turath House.