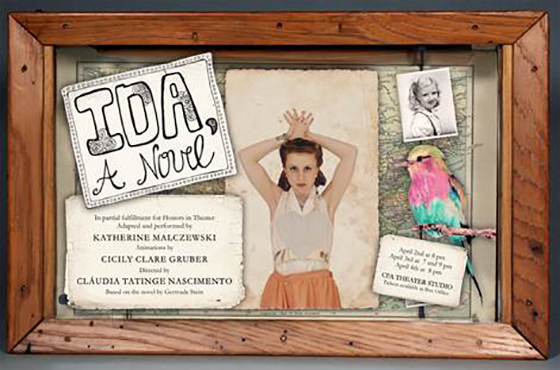 Ida, A Novel: Thesis Theater Production by Cicily Clare Gruber and Katherine Malczewski
Thursday, April 2, 2015 at 8:00pm
CFA Theater Studio, 275 Washington Terrace
FREE! (tickets required)
Friday, April 3, 2015 at 7:00pm
CFA Theater Studio, 275 Washington Terrace
FREE! (tickets required)
Friday, April 3, 2015 at 9:00pm
CFA Theater Studio, 275 Washington Terrace
FREE! (tickets required)
Saturday, April 4, 2015 at 8:00pm
CFA Theater Studio, 275 Washington Terrace
FREE! (tickets required)
Saturday, May 23, 2015 at 2:00pm
CFA Theater Studio, 275 Washington Terrace
FREE!
Based on the novel by Gertrude Stein, Ida, A Novel is a meditation on the effects of celebrity on identity. A solo performance adapted and peformed by Katherine Malczewski '15 with animations by Cicily Clare Gruber '15. Presented in partial fulfillment for Honors in Theater. Directed by Associate Professor of Theater Cláudia Tatinge Nascimento.
As the title character becomes famous (for being herself), she owns dogs, moves from state to state and abroad, and searches for someone to complete her. Ida's tale is at once an abstraction, a love story, a comedy, and a narrative of escape expressed in Ms. Stein's distinctly playful style.

Very limited seating. Duration: 40 minutes.