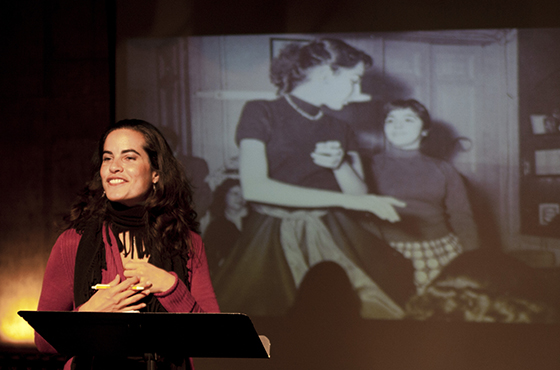 In/Between: Pieces in Progress
Friday, April 17, 2015 at 8:00pm
World Music Hall
FREE!
Saturday, April 18, 2015 at 8:00pm
World Music Hall
FREE!
Click here to view the full album on flickr
How do we balance the many roles we play, owning our identities, and wanting to belong?

Lebanese American writer, performer, and teaching artist Leila Buck '99 presents a work-in-progress sharing of a collaborative theatrical work commissioned by the Center for the Arts as part of Muslim Women's Voices at Wesleyan.

Since last spring, Ms. Buck has been visiting Wesleyan regularly, examining the politics of representing Muslims in America by engaging in classes and dialogues with students, faculty, staff, and visitors.

This spring, she and her student collaborators are weaving these and other voices to explore the struggle to represent and negotiate between identities that seem to be in conflict: our inner and outer selves, our faith and our intellect, and our diverse families and communities.

Through theatrical scenes, storytelling, and playful improvisations with the audience, this performance-in-process invites the audience to participate in an interactive exploration of how we know what we think we know, see what we don't, view ourselves and each other, and engage in the spaces in between.

Created, performed, and directed by Leila Buck '99 with Sivan Battat '15 in collaboration with Sahar Shaikh '17, Alicia Strong '18, Israa Saber '17, May Treuhaft-Ali '17, Samira Siddique '15, Rajaa Elidrissi '16, Casey Smith '17, Penina Kessler '15, Candace Powning '18, Cheryl Hagan '17, Rizky Rahadianto '15, Marcos Plaud '18, and other Wesleyan students, faculty, staff, and community.