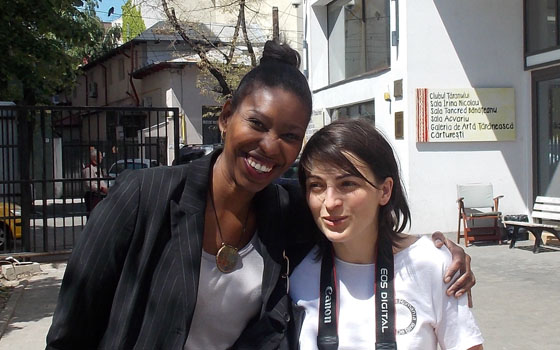 How to Seduce an Audience? A Talk by Tamilla Woodard and Ana Margineanu
Tuesday, July 14, 2015 at 12:10pm
CFA Hall
FREE!
Directors
Ana Margineanu
and
Tamilla Woodard
ask the question "what is the communal event of theater?" As
PopUp Theatrics
, they have created theater all over the world that invites the audience into an expanded relationship with the theatrical event. With their "Solo Spectator" shows, "Skype Interactives," and "Street Immersives," they investigate how the role of the spectator has changed in the last century, what is still valid about it, and possible ways to refresh the experience. At Wesleyan, they will discuss the relationship between performer and audience in this new era of extreme digital connectivity and increasing physical alienation.
Tamilla Woodard is co-founder of PopUp Theatrics, a partnership creating site-impacting theatrical events in collaboration with theater artists working around the globe. She is a graduate of the Yale School of Drama, an alumnus of the Lincoln Center Directors Lab, and currently serving as the Artistic Director for the Five Boroughs/One City Project for the Working Theater. The project will support the commissioning and development of five playwright/director teams working in collaborations and creating theatrical works in response to working class communities in all five New York City boroughs. Her most recent work as a director includes the international site-specific collaboration
INSIDE
(PopUP Theatrics, Bucharest, Romania and Madrid, Spain);
Cherry Smoke
by James McManus (The Working Theater, New York City); and
Broken City
(PopUP Theatrics, New York City). Other recent work includes
Long Distance Affair
, an international collaboration for live Skype performance with editions in Buenos Aires, Queretaro, New York City, Bucharest, and Edinburgh; and
La Ruta
by Ed Cardona, Jr., a
New York Times
year list of notable productions (Working Theater, New York City). She is a Usual Suspect at New York Theatre Workshop, Time Warner Directing Fellow at Women's Project Theatre, and Affiliate Artist with New Georges; and the recipient of the Charles Bowden Award from New Dramatists, and the Josephine Abady Award from The League of Professional Theatre Women.
Ana Margineanu is a Romanian theater director, based in New York City. Her credits include
Broken City
(New York City);
INSIDE
(Madrid, Bucharest);
Long Distance Affair
(Edinburgh, Buenos Aires, New York, Mexico);
The Window
(New York City);
The Blind Trip
(New York City);
The Sunshine Play
(Dublin, Bucharest);
Buy Me With A Coffee
(Graz, Bucharest);
Bucharest Calling
(New York, Bucharest); and
89, 89... Hot After '89
(Bucharest). Her work has been presented internationally in New York, Buenos Aires, Edinburgh, Madrid, Mexico, Basel, Dublin, Duesseldorf, Graz, Prague, Saint Petersburg (Russia), Stuttgart, and Vienna, as well as the major cities of Romania.
Her storefront theatrical installation
The Window r
eceived four New York Innovative Theatre Awards including "Best Ensemble."
Only the Best About Romania
, Ms. Margineanu's most recent project in Romania, is a series of plays created in collaboration with playwright Peca Stefan. Through interviews and rigorous research, each play in this series becomes a portrait of the life and spirit of a different Romanian town. Together, they make an unconventional analysis of contemporary Romania. The first of these plays are
A True Story Completely Invented About Baia Mare
and
5 Miraculous Minutes in Piatra Neamt
. The third show in the project,
Playground Targoviste
, was selected in the prestigious festival New Plays from Europe 2012, in Wiesbadean. The newest show,
The Saint from Saint George
, is performing in Saint Geroge, Romania during the 2014-2015 season.
As a television director, Ms. Margineanu worked for Media Pro Television Studios, directing the series
One Step Ahead
and short films. She worked as an Associate Professor at the National University of Theatre and Film, Bucharest. She has lead workshops in Athens, Bucharest, Mexico City, New York, and Timisoara. She is a founding member of DramAcum, a directors collective that supports young Romanian playwrights; and participated in Lincoln Center's Directors Lab '07. Together with Tamilla Woodard, Ms. Margineanu created PopUp Theatrics, a site-specific/site-impacting theater company.