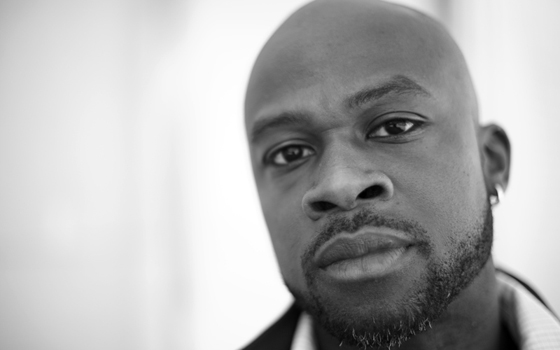 Work-In-Progress Showing of /peh-LO-tah/ and Conversation with Marc Bamuthi Joseph
Thursday, July 23, 2015 at 8:00pm
CFA Theater
FREE!
Marc Bamuthi Joseph
returns to Wesleyan to share the inspiration behind the creation of
/peh-LO-tah/
— a trans-disciplinary performance piece and artistic inquiry that links soccer ("the beautiful game") to the underpinnings of yearning democracies, global economic hierarchies, and local social practice. Evolving from a collaboration led by Mr. Joseph,
/peh-LO-tah/
blends spoken word poetry, dance, music, and shadow animation to express a passion for the global game that acknowledges both the physical liberation of sport and the insistent prejudices that divide humanity into separate and unequal parts. Following a week-long residency at Wesleyan with choreographer
Stacey Printz
and actor, dancer, and singer
Traci Tolmaire
to begin developing movement vocabulary for
/peh-LO-tah/
, Mr. Joseph shares excerpts of that investigation in a work-in-progress showing. 
Marc Bamuthi Joseph is one of America's vital voices in performance, arts education, and artistic curation. After appearing on Broadway as a young actor, Mr. Joseph has written and performed in a series of poetically-based works for the stage that have toured across the U.S., Europe, and Africa. These include
Word Becomes Flesh
,
Scourge
, and t
he break/s: a mixtape for stage
, which co-premiered at the Humana Festival of New American Plays and the Walker Arts Center in 2008, and toured to fourteen U.S. cities throughout 2010. His full-evening theater work,
red, black & GREEN: a blues
premiered at the Yerba Buena Center for the Arts in 2011, and toured to thirteen U.S. cities. r
ed, black & GREEN: a blues
was nominated for a 2013 Bessie Award for "Outstanding Production of a Work Stretching the Boundaries of a Traditional Form."
Word Becomes Flesh
, originally performed as a solo work, was re-mounted as an ensemble work in December 2010 as part of the National Endowment for the Arts' "American Masterpieces" initiative, and toured to 21 U.S. cities in 2014. Among Mr. Joseph's commissions are the libretto for
Home in 7
for the Atlanta Ballet in 2011; the libretto and lyrics (with composer Daniel Bernard Roumain) on a new work for Opera Philadelphia's "Hip H'Opera Project;" and the new theater work for South Coast Repertory Theater's "Crossroads Commissioning Project." Mr. Joseph was one of 21 artists to be named to the inaugural class of Doris Duke Performing Artist Award recipients in 2012. He also was a recipient of the inaugural United States Artists Rockefeller Fellowship in 2007. He was the 2011 Alpert Award winner in Theater, and a recipient of the 2006 Gerbode Emerging Playwright Award.  In fall 2007, he appeared on the cover of
Smithsonian Magazine
after being named one of "America's Top Young Innovators in the Arts and Sciences." Publication of Mr. Joseph's plays include r
ed, black & GREEN: a blues
published in "Theater, Volume 42, Number 3," Duke University Press on behalf of the Yale School of Drama/Yale Repertory Theatre (2012);
the break/s: a mixtape for stage
published in "Humana Festival 2008: The Complete Plays," Playscripts, Inc, (2009); and
Word Becomes Flesh
published in "Playz from the Boom Box Galaxy: An Anthology for the Hip Hop Generation," Theatre Communications Group (2009). His essays have been published in "Cultural Transformations: Youth and Pedagogies of Possibility," Harvard Education Press (2013); and "Total Chaos: Next Elements," Basic Civitas (2007). A gifted and nationally acclaimed educator and essayist, Mr. Joseph has lectured at more than 200 colleges and universities, has been a popular commentator on National Public Radio, and has carried adjunct professorships at Stanford University, Lehigh University, Mills College, and the University of Wisconsin. He is Artistic Director Emeritus of Youth Speaks, where for a decade he mentored young writers and curated the Living Word Festival and Left Coast Leaning. He co-founded "Life is Living," a national series of one-day festivals designed to activate under-resourced parks and affirm peaceful urban life through hip hop arts and focused environmental action. Mr. Joseph currently serves as Director of Performing Arts at Yerba Buena Center for the Arts in San Francisco.
Previously at Wesleyan, Mr. Joseph presented the New England premiere of the ensemble version of the work
Word Becomes Flesh
in July 2013; and performed excerpts of that work, along with
the break/s
and
red, black & GREEN: a blues
during his solo performance
The Spoken Word
in July 2011; as part of the "Summer at the CFA" series.
Choreographer Stacey Printz is the director of the Printz Dance Project, and received her sociology and dance degrees from U.C. Irvine. She teaches throughout the Bay Area, at St. Mary's College, and Sonoma State University; and conducts master classes and workshops for universities and studios across the United States and internationally, including New York, Memphis, Colorado, Switzerland, Lithuania, and the Netherlands, among others. She has collaborated with Marc Bamuthi Joseph's
Scourge
,
the break/s
, and r
ed, black & GREEN: a blues
.  
Traci Tolmaire
is an actor, dancer, and singer from Chicago. Her training in theater arts and dance include a B.A. in Theater from Spelman College, and theatrical studies at New York University's Tisch School of the Arts. She has studied dance at various institutions across the country including Lou Conte/Hubbard Street Dance (Chicago), ODC (San Francisco), and currently at Mark Morris Dance Center (New York). Her theatrical credits include
The Circle Unbroken is a Hard Bop
(651 Arts/MAPP International Productions);
red, black, & GREEN: a blues
(MAPP International Productions/Living Word Project);
Plenty of Time
, nominated for an AUDELCO Award for "Best Ensemble" (New Federal Theatre);
IPH...
, a translation of
Iphigenia at Aulis
by Euripides (Brava Theater/African-American Shakespeare Company);
Mirrors In Every Corner
(directed by Marc Bamuthi Joseph for Intersection for the Arts/Campo Santo);
Joseph and the Amazing Technicolor Dreamcoat
(Fulton Opera House);
The Darker Face of the Earth
(Take Wing and Soar Productions);
Trouble in Mind
(Actor's Express); and
Breath, Boom
(Synchronicity Theatre Group). Ms. Tolmaire has worked as a choreographer for Hartford Stage Company's production of
Gee's Bend
, a Connecticut Critics Circle Award Winner for "Best Ensemble;"
Rejoice!
, a holiday musical at Lorraine Hansberry Theatre; and the world premiere of
Dancing On Eggshells
at The Billie Holiday Theatre in Brooklyn, where she also works as an Artistic Associate. For more information about Ms. Tolmaire, please visit www.tracitolmaire.com.