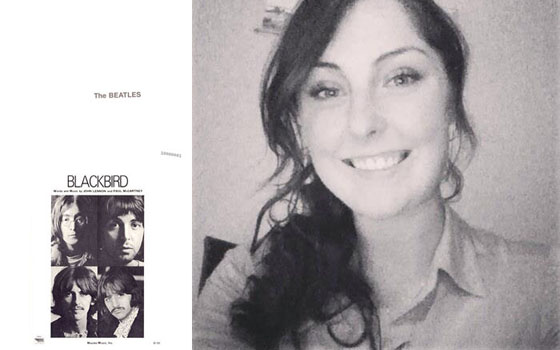 Blackbird - A Benefit Concert for the Stephanie Nelson Memorial Scholarship Fund
Saturday, July 25, 2015 at 8:00pm
Crowell Concert Hall, 50 Wyllys Avenue, Middletown
$45 dinner and show; $25 show
$25 concert tickets will be available at the door.
For $45 tickets for the combined dinner and concert: please call (860) 882-9415 or (860) 983-8625.
$25 concert only tickets are available at the following locations:
--
Nardelli's Grinder Shoppe
, 396 Washington Street, Middletown, CT 06457
--
Illiano's Ristorante & Pizzeria
, 534 Washington Street, Middletown, CT 06457
An "all-star band" will be performing The Beatles'
White Album
(1968) in its entirety as a benefit concert to create a scholarship fund in memory of Stephanie Nelson. Funds raised will go towards Middlesex Community College students in support of internships at Wesleyan University.
There is a limited number of $45 tickets available for a dinner which will be held from 5pm to 6:45pm before the evening concert at Wesleyan University. The dinner will take place in the Pavilion at
Middlesex Community College
, located at 100 Training Hill Road in Middletown, Connecticut.
The "all-star" band will include drummer
Andy Chatfield
, bassist Mark Crino, and saxophonist Eric DellaVecchia of
Stanley Maxwell
; Jeff Howard (the founding guitarist from the band
The McLovins
); lead vocalist
Julie Corbalis
; James Anderson of
Jean-Claude Trans/Am
on percussion; keyboard player Glen Nelson (of
Spaghetti Cake
and
High Adventure
); lead vocalist Alice-Anne Harwood Sherrill and backup vocalist
Shona Kerr
(of
The Future Heavies
); Shawn Persinger (guitarist for
Prester John
,
11twelve13
,
The Luck Pushers
, and
Boud Deun
); Claire Tuxill McKenney on French horn; saxophonist Dustin Kreidler; Jennifer Berman on flute; Catherine Rousseau on clarinet and saxophone;
Matthew Russo
on trombone; John Gaiser on tuba;
Nick Di Maria
on trumpet; Dan Fecteau on violin;
Ravenna Michalsen
on cello; Wesleyan University Adjunct Assistant Professor of Music
Nadya Potemkina
on viola; and Wesleyan Private Lessons Teacher
Megan Sesma
on harp.
Join this event on Facebook
here
.
Click here to read about this event in
News @ Wesleyan
,
Middlesex Community College's Center for New Media
blog, the
Middletown Press
,
The Hartford Courant
, and
The New York Times
.
If you cannot attend the event, but would like to make a donation instead, please make checks payable to the "MXCC College Foundation," with a note in the subject line that clearly states that it is for the "Stephanie Nelson Scholarship Fund." Donations can also be made by visiting mxcc.edu/donate and adding a note that clearly states that it is for the "Stephanie Nelson Scholarship Fund."