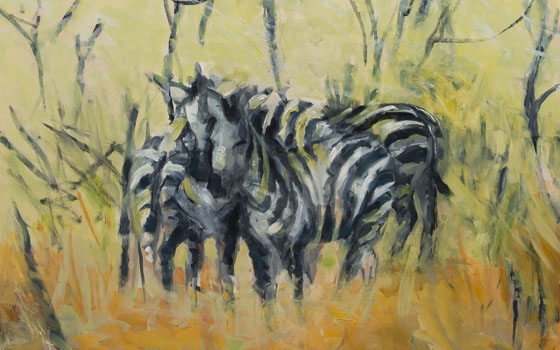 Opening Reception: Memory and Harbinger Exhibition by Kathi Packer
Thursday, September 3, 2015 at 5:00pm
Green Street Teaching and Learning Center, 51 Green Street, Middletown

FREE!
Since 2008, Kathi Packer's work has focused almost exclusively on images of wildlife that she photographed while in Africa. After many years of painting the figure in situations that explored the human imprint on nature, Ms. Packer turned to animal imagery to tell this compelling story from a different perspective. Each encounter with nature gave her an untold appreciation for the interdependence of species.

Wildlife, especially large mammals, is endlessly fascinating to observe. Drawing and painting from photography has allowed Ms. Packer the emotional distance that she needed to escape verisimilitude. When facts recede into the background, her memory, imagination, and pictorial concerns take precedence.

Ms. Packer is reminded of Cezanne's statement that "all systems are artificial," and an artist "deals with the tension between what is seen and the constructions made of it." Ms. Packer uses color, composition, and space to create an effect of nature and what is experienced, not a copy of it.

Opening reception: Thursday, September 3, 2015 from 5pm to 8pm as part of Middletown ArtWalk.
Artist Talk: Monday, September 21, 2015 from Noon to 1pm.

Gallery hours: Monday through Friday from 9am to 3pm.

On display from Thursday, September 3 through Wednesday, September 23, 2015.