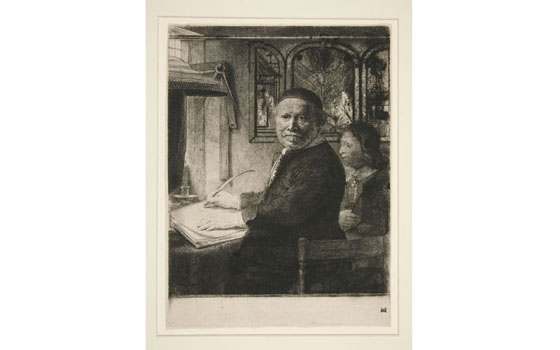 Tour of Rembrandt's Changing Impressions Exhibition
Saturday, September 12, 2015 at 11:00am
Miriam and Ira D. Wallach Art Gallery, Columbia University
$65 general public; $55 for the Friends of the Davision Art Center
Ticket price includes lunch. Space limited. Transportation not included. 
Reservations required; call the Wesleyan University Box Office at 860-685-3355.
Don't miss this special tour organized by the Friends of the Davison Art Center with Robert Fucci '92, curator of the exhibition Rembrandt's Changing Impressions at the Miriam and Ira D. Wallach Art Gallery, Columbia University. This will be an unparalleled opportunity to view Rembrandt's most dramatically changed works, each displayed in multiple impressions, side by side, revealing their range, power, and nuance. The exhibition includes three etchings on loan from the Davison Art Center, as well as prints from other significant U.S. collections, and incorporates exciting new scholarship on Rembrandt's thoroughly unconventional process. Mr. Fucci is completing a Ph.D. in art history at Columbia University, specializing in the history of 17th-century Dutch art. He began his studies in print history at Wesleyan, where he first encountered the prints of Rembrandt.
After a light lunch, the group will have a guided tour of the gothic revival Cathedral of St. John the Divine, the largest cathedral in the world.

Image: Rembrandt Harmensz van Rijn. Lieven Willemsz van Coppenol, Writing-Master: The Smaller Plate, ca. 1653 (Hind) or ca. 1658 (Boon and White). Etching; 10 1/8 x 7 1/2 in. Yale University Art Gallery, Fritz Achelis Memorial Collection, Gift of Frederic George Achelis, B.A. 1907; 1925.136.