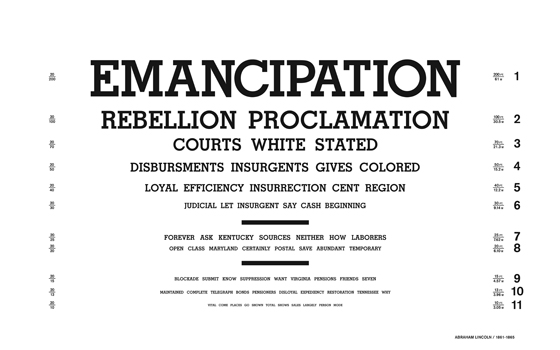 Opening Reception: R. Luke DuBois - In Real Time
Wednesday, September 16, 2015 at 5:30pm
Main Gallery, Ezra and Cecile Zilkha Gallery
FREE!
Click here to view the full album on flickr.
Lauren Rosati, Guest Curator

Genre-defying composer, artist, and performer R. Luke DuBois utilizes data to create maps, scores, and videos that explore subjects including the Iraq War and the census; and that raise questions of artistic agency, privacy, and fair use. Organized as a database of his projects and concerns, the exhibition R. Luke DuBois: In Real Time is the first major gallery presentation of his work, and will include recent and commissioned pieces that take as their basis real-time data flows, topical statistics, and contemporary media footage.


Acceptance (Excerpt) from R. Luke DuBois on Vimeo.
R. Luke DuBois: A More Perfect Union from H. Paul Moon on Vimeo.
Image: R. Luke DuBois, Hindsight is Always 20/20, 2008, set of 43 letterpress prints, 41 eye charts, 1 title, 1 synopsis; each print:  21.25 x 28.25 inches