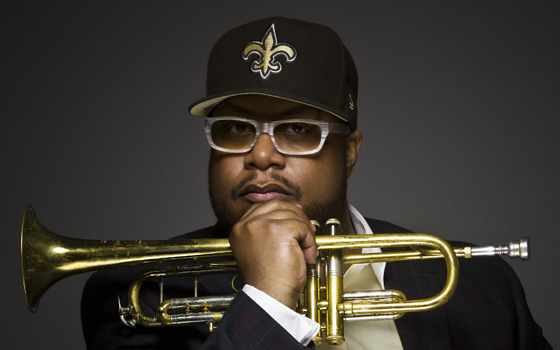 Nicholas Payton Trio featuring Gerald Cannon and Herlin Riley
Friday, September 18, 2015 at 8:00pm
Crowell Concert Hall
$27 general public; $25 senior citizens, Wesleyan faculty/staff/alumni, non-Wesleyan students; $6 Wesleyan students
Click Here to view the full album on Flickr
Pre-concert talk by Wesleyan Jazz Ensemble Coach Noah Baerman at 7:15pm

"[Nicholas] Payton's clarion trumpet, as well as his genre-defying solos, stood at the center of the music making. [He] bent notes beyond recognition. No descriptive label or category could be affixed to [his] solos, which were as brashly original as they were technically imposing."
—Chicago Tribune

Grammy Award-winning trumpet virtuoso and multi-instrumentalist Nicholas Payton was born into a musical family in New Orleans. After touring with Elvin Jones, Mr. Payton made his major-label recording debut as a leader in 1994. Since then, Mr. Payton has consistently committed himself to developing his distinct voice and forging new musical frontiers. At Wesleyan, Mr. Payton will perform on trumpet, piano, and Fender Rhodes with his Trio featuring bassist Gerald Cannon and drummer Herlin Riley.



Image by Gus Bennett.