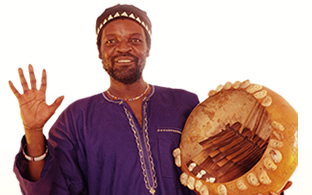 Music Department Colloquium: Chartwell Dutiro
Wednesday, September 23, 2015 at 4:15pm
Music Rehearsal Hall 003 (Daltry Room), 60 Wyllys Avenue
FREE!
Musician, singer, song-writer, composer, author and teacher
Chartwell Dutiro
grew up in rural Zimbabwe and started playing the
mbira
when he was four. The
mbira
is an ancient instrument, consisting of at least 22 metal keys mounted on a wooden soundboard. Mr. Dutiro and his brother would often play
mbira
all night, calling the ancestral spirits for guidance, as has been done in Zimbabwe over the centuries. As a teenager, Mr. Dutiro he played in a military marching band. From 1986 to 1994, he toured the world with the legendary group Thomas Mapfumo and The Blacks Unlimited. Since 1994, Mr. Dutiro has been based in Britain, performing, recording, teaching, and building bridges through his music.