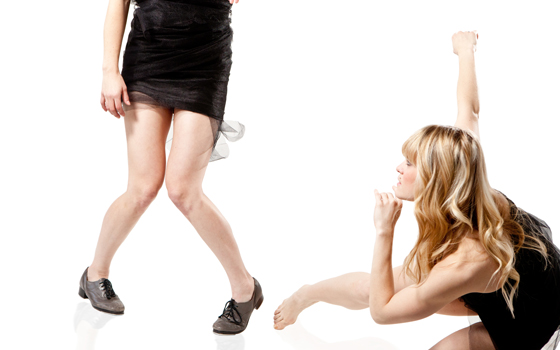 Dorrance Dance
Friday, September 25, 2015 at 8:00pm
CFA Theater
$25 general public; $23 senior citizens, Wesleyan faculty/staff/alumni, non-Wesleyan students; $6 Wesleyan students
Saturday, September 26, 2015 at 8:00pm
CFA Theater
$25 general public; $23 senior citizens, Wesleyan faculty/staff/alumni, non-Wesleyan students; $6 Wesleyan students
Click Here to view the full album on Flikr
Pre-performance talk by Wesleyan DanceLink Fellow Sonya Levine '17 on Friday, September 25, 2015 at 7:30pm in CFA Hall.

"One of the most imaginative tap choreographers working today."
—The New Yorker
After devoting 30 years to studying and performing tap dance, Michelle Dorrance founded Dorrance Dance / New York in 2011, and has become a contemporary tap sensation; pushing the tradition rhythmically, aesthetically, and conceptually. During their Connecticut debut, the company will perform selections from three of their acclaimed, percussive works: SOUNDspace, an a cappella segement from ETM: The Initial Approach, and The Blues Project with live music performed by the dancers. Each work is a ringing testament to tap dance as both movement as music.

Click here to read Improv Tap Highlight Of Dorrance Dance Show At Wesleyan, an interview with Michelle Dorrance by Sharma Piersall in The Hartford Courant. 

Click here to watch the Soundspace highlight reel from Michelle Dorrance on Vimeo.
A Breaking Ground Dance Series event presented by the Dance Department and the Center for the Arts. Made possible by grants from the National Endowment for the Arts, and the Expeditions Program of the New England Foundation for the Arts.