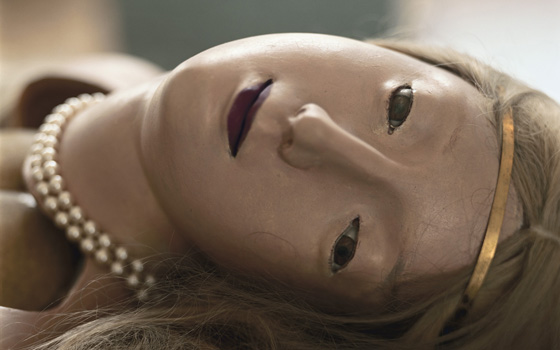 Opening Reception: Phantom Bodies: Photographs by Tanya Marcuse
Tuesday, September 29, 2015 at 6:00pm
Davison Art Center
FREE!

The exhibition Phantom Bodies brings together Undergarments and Armor (2002–2004) and Wax Bodies (2006–2008), two projects in which Tanya Marcuse creates haunting photographs evoking absent bodies.
For 
Undergarments and Armor,
 Ms. Marcuse traveled to archives and museums in the United States and England, where she photographed breastplates, helmets, corsets, bustles, mannequins, and the dress forms that populate storerooms. These platinum prints suggest opposing categories: armor/underwear, male/female, hard/soft, armed/disarmed, presence/absence. For 
Wax Bodies, 
she photographed the 18th-century Italian anatomical models in two obscure museum collections, La Specola in Florence and the Josephinum in Vienna. Referred to as "phantom bodies," these wax models were made to teach new scientific knowledge of anatomy, childbirth, and disease. With her subtle images, Ms. Marcuse explores the tension between the Enlightenment ideal of objective science and the artistry and rapture of the Baroque.
Tanya Marcuse received an M.F.A. from Yale University, and has been awarded a Guggenheim fellowship, among other honors. She has published three books with Nazraeli Press: 
Undergarments and Armor 
(2005), 
Fruitless 
(2007), and 
Wax Bodies 
(2012). Her work has been shown internationally and is in numerous collections. She is represented by Julie Saul Gallery, New York.
Tanya Marcuse (American, born 1964), 
Wax Bodies No. 187
, 2007, pigment print. Copyright © Tanya Marcuse. Courtesy of Julie Saul Gallery.