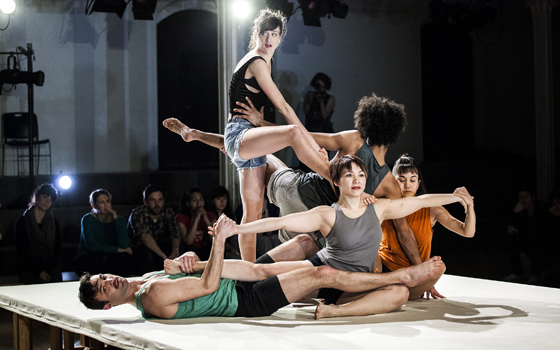 Faye Driscoll —Thank You for Coming: Attendance
Friday, November 13, 2015 at 8:00pm
Patricelli '92 Theater
$25 general public; $23 senior citizens, Wesleyan faculty/staff/alumni, non-Wesleyan students; $6 Wesleyan students
Saturday, November 14, 2015 at 2:00pm
Patricelli '92 Theater
$25 general public; $23 senior citizens, Wesleyan faculty/staff/alumni, non-Wesleyan students; $6 Wesleyan students
Saturday, November 14, 2015 at 8:00pm
Patricelli '92 Theater
$25 general public; $23 senior citizens, Wesleyan faculty/staff/alumni, non-Wesleyan students; $6 Wesleyan students
Click here to view the full album of photos taken at the dress rehearsal on Flickr.


Please plan to arrive to the venue early, as there will be no latecomer seating for these performances.

Pre-concert talk by Wesleyan DanceLink Fellow Djiby Sall '16 on Friday, November 13, 2015 at 7:30pm in Zelnick Pavilion. 
"Exhilarating, uninhibited, and adventurous." --The Brooklyn Rail
Thank You For Coming, a series of works by choreographer/director Faye Driscoll, focus on how you experience yourself in relation to other bodies and the spaces you inhabit. During the Connecticut premiere of the dance theater work Attendance, dancers pass through ever-morphing states of physical entanglement. Intimately staged in the round, Ms. Driscoll crafts a heightened reality of observation, invitation, and interdependence. The audience and performers share a dynamic, joyful ritual of action and transformation. Ms. Driscoll was Wesleyan's 2014-15 Creative Campus Fellow in Dance.

Click here to read What We Build Together is a Kind of Canopy, context notes for these performances by Visiting Assistant Professor of Theater Katherine Brewer Ball.


Thank You For Coming: Attendance - Trailer from Faye Driscoll Group on Vimeo.
A Breaking Ground Dance Series event presented by the Dance Department and the Center for the Arts. Made possible by a grant from the National Endowment for the Arts.