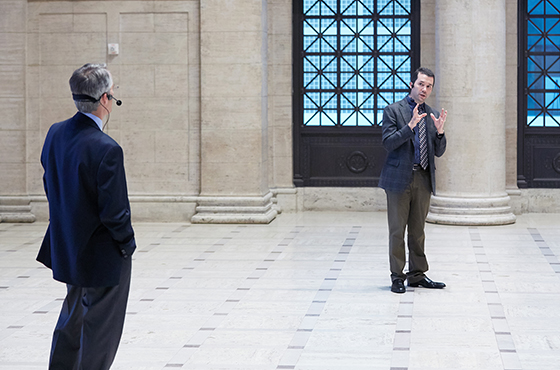 Yan Xing: Tales from a Small New England Town
Friday, February 26, 2016 at 7:30pm
Olin Memorial Library
Click here to view the full album on Flickr.
One of the preeminent performance artists of his generation, Yan Xing has been greatly influenced by relational aesthetics, translating this strategy to a Chinese context. He also works in video, photography, and installation. His works relate both to Chinese society and to Western art history. In connection with the exhibition We Chat: A Dialogue in Contemporary Chinese Art on view in the Ezra and Cecile Zilkha Gallery through February 28, 2016, Yan Xing will work closely with students to stage a happening at Olin Memorial Library. A unique intervention, it will be based on an adaptation of Strange Stories from a Chinese Studio, a collection of supernatural tales from the eighteenth century.
Yan Xing (1986, Chongqing) lives and works in Beijing and Los Angeles. Yan Xing's work combines diverse media such as performance, video, photography, and installation. His works circulate around large themes such as negativity, resistance, and order, exploring their complex interrelations. In 2012 Yan Xing won the Best Young Artist Award from CCAA (Chinese Contemporary Art Award) and also received a nomination for the Future Generation Art Prize from the Victor Pinchuk Foundation. Yan Xing has exhibited and performed extensively; recent major exhibitions include 3rd Ural Industrial Biennial of Contemporary Art, Yekaterinburg, Russia (2015); 28 Chinese, Rubell Family Collection, Miami, USA (2013); and ON | OFF: China's Young Artists in Concept and Practice, Ullens Center for Contemporary Art (UCCA), Beijing, China (2013). Yan Xing's commissioned, new performance work, Performance of a Massacre (2016) has been shown earlier this year at the Stedelijk Museum Amsterdam. In the middle of 2016, the Eli and Edythe Broad Art Museum, Michigan State University, East Lansing, Michigan, USA will present Yan Xing's first museum solo show in the United States.
Image above: Yan Xing, Lessons on the Far East, 2015
Performance view, Asian Art Museum, San Francisco, USA, 2015
Courtesy: the Artist and Asian Art Museum, San Francisco, USA
Photo by Quincy Stamper