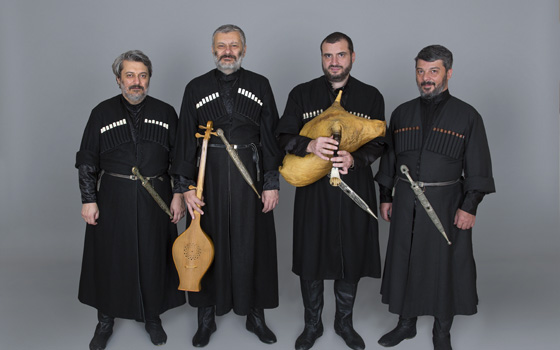 Anchiskhati Church Choir
Wednesday, March 2, 2016 at 8:00pm
Memorial Chapel
FREE!
Master singers at the oldest church in Tbilisi, members of the Anchiskhati Church Choir return to Wesleyan to present a concert of secular and sacred music from the Republic of Georgia.
Within this small country, whose borders embrace the lush Black Sea coast, the shrub deserts of Azerbaijan, and the towering Caucasus mountains, a centuries-old musical tradition has flourished, with Georgian polyphony recognized by UNESCO as an Intangible Cultural Heritage of Humanity.
For decades, the Anchiskhati Church Choir has been at the forefront of the revival of Georgian music, employing precise tuning and a bright, rapturous vocal sound to create performances of immediacy and depth. They are also scholars, whose efforts in transcribing, preserving and disseminating old recordings and manuscripts have been crucial in the study of this unique and increasingly popular musical tradition.
The group will sing folk songs from all regions of Georgia, accompanying themselves on chiboni (goatskin bagpipe) or chonguri (four-string lute), as well as haunting selections from their vast repertoire of church chants.
The choir previously performed at Wesleyan in 2005.
There will be a pre-concert talk and Q&A at 7:30pm with Wesleyan graduate student Brian Fairley MA '17 and alumnus John Graham '03, a postdoctoral fellow at Yale's Institute for Sacred Music.