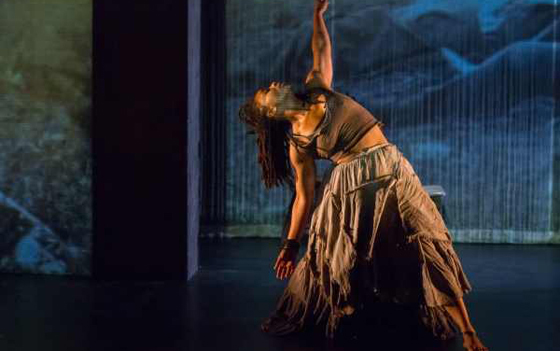 DanceMasters Weekend: Master Class - Samantha Speis
Saturday, March 5, 2016 at 10:00am
Cross Street Dance Studio, 160 Cross Street, Middletown
$19 per class; $13 per class for Wesleyan students
Click here to view photos from this event on Flickr.
Saturday, March 5, 2016 from 10:00am - 11:30am
Samantha Speis, Dancer and Associate Artistic Director of Urban Bush Women, will teach a Master Class that will provide an opportunity for intermediate to advanced dance students and dance professionals to explore diverse dance techniques during DanceMasters Weekend.

Samantha Speis, Dancer and Associate Artistic Director of Urban Bush Women is a movement artist residing in Brooklyn, New York. She has worked with Gesel Mason, The Dance Exchange, Deborah Hay (as part of the Sweet Day curated by Ralph Lemon at the MoMA), Marjani Forte, Pearson/Widrig Dance Theater and MBDance. She was the 2012 recipient of the Alvin Ailey New Directions Choreography Lab, and had seven weeks to teach and explore process with Ailey students. Her work has been featured at the Kennedy Center (Millennium Stage), Long Island University, Joyce SoHo, Hollins University, Danspace Project, Dixon Place, Dance Place, and The Kelly Strayhorn Theater. Speis' solo, The Way it Was, and Now, was commissioned by the Jerome Foundation to be performed at Danspace Project for the Parallels Platform Series, and was later invited to the Kaay Fecc Dance Festival in Dakar, Senegal. Speis has been a guest artist and taught workshops throughout the United States, South America, Senegal, and Europe. Upcoming projects include Liz Lerman's Healing Wars and Jawole Zollar and Liz Lerman's Blood Muscle Bone: the anatomy of wealth and poverty. This is Samantha's sixth season with UBW.
Liz Lerman's Healing Wars, Photo credit: Teresa Wood
Urban Bush Women's Shelter, Photo credit: Ayano Hisa

DanceMasters Weekend is a two-day immersion in contemporary dance, featuring ten Master Classes and a Choreographers Conversation.

A Weekend Pass, which includes five Master Classes, is $75 for the general public (plus a $6 class registration fee), or $55 for Wesleyan students.

Master Classes: Saturday, March 5, 2016 from 10am to 5pm

Master Classes: Sunday, March 6, 2016 from 11am to 2:30pm

Classes are designed for students with intermediate to advanced dance experience. Master Class teachers will incorporate technique and movement combinations from their repertoire.

To register for Master Classes: call 860-685-3355, mail or bring a registration form to the Wesleyan University Box Office, 45 Wyllys Avenue, Middletown, CT 06459.