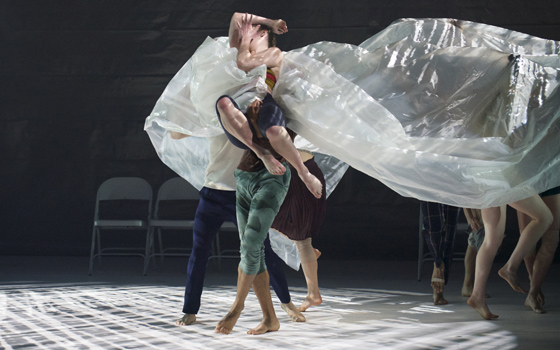 DanceMasters Weekend: Master Class - Allysen Hooks - SOLD OUT
Saturday, March 5, 2016 at 1:30pm
Bessie Schönberg Dance Studio, 247 Pine Street, Middletown
$19 per class; $13 per class for Wesleyan students
Click here to view photos from this event on Flickr.
Saturday, March 5, 2016 from 1:30pm - 3pm
Allysen Hooks, dancer at Gallim Dance, will teach a Master Class on Gallim Dance's movement language and Gallim Dance repertory.
Participants begin class with an introduction to Gallim Dance's movement language. In a series of immersive improvisational experiments participants build road maps to self-discovery as virtuosic movers and creative artists. This class is inspired by Gallim's collective research in physical therapy, traditional movement techniques, Gaga, and Miller's choreographic works. Each class develops dancers technical growth through a sensitive and imaginative conversation between the muscular, nervous, skeletal, and cognitive systems.
Class continues with an exploration of Gallim Dance repertory, which offers students the opportunity embody some of Gallim Dance's challenging choreography. Students gain insight to the artistic evolution involved in the creative process and participate in compositional games that Miller uses to build new material.
Allysen Hooks will be teaching her first DanceMasters Weekend Master Class at Wesleyan in 2016.
Allysen Hooks is from Houston, TX. She graduated from The Juilliard School in 2010 and has since freelanced with younger and emerging choreographers such as Carlye Eckert, Esme Boyce, and Michelle Mola. Allysen has been a member of Dance Heginbotham, under direction of John Heginbotham, since August 2011. In 2010 she presented her own work in Montreal.
Gallim Dance, one of New York's leading contemporary dance companies, creates and performs the work of Artistic Director Andrea Miller. Since 2007, Gallim has presented Miller's artistic vision through its performances, collaborations, educational programs, and Brooklyn studio projects. With each new work, Gallim dives deeper into singular explorations of universal struggles such as love, spirituality, and the tensions between the individual and collective experience. Miller's uncompromising creative language—which exerts every drop of sweat, every breath, and full abandonment from a virtuosic and fearless company of dancers—brings these works to life. The "delicious strangeness, fierce aggression, and raw beauty" (New York Press) of Gallim Dance celebrates the human spirit. While deeply rooted in dance expression, Gallim is a unique set of cultural ethos, drawing upon elements of theater, visual art, film, and political philosophy.

Gallim performs for 20,000 audience members annually at premier venues including The Joyce Theater, Lincoln Center, BAM, the Kennedy Center, Works & Process at the Guggenheim, New York City Center, Jacob's Pillow Dance Festival, Peak Performances at Montclair State University, Spoleto Festival, White Bird, and ODC. International venues include the Grec Festival de Barcelona (Spain), Théâtre National de Chaillot (France), Teatros del Canal (Spain), Festival Tanztage at Posthof (Austria), Teatro Nacional de Panama (Panama), the Grand Théâtre de la Ville de Luxembourg, and Theaterhaus Stuttgart (Germany).

Gallim has been recognized by the John Simon Guggenheim Memorial Foundation, The Harkness Foundation for Dance, Princess Grace Foundation-USA, The Shubert Foundation, Rockefeller Brothers Fund, and New York State Council on the Arts for the strength of Miller's artistic work and the organization. It has also received awards from the National Endowment for the Arts, Mary Duke Biddle Foundation, New York City Department of Cultural Affairs, and the Office of the Brooklyn Borough President for its community programming.

In 2016, Gallim will focus on several large-scale multi-disciplinary works. Miller will create a new work for Gallim Dance in collaboration with The Curtis Institute of Music's organ and vocal divisions to be performed at The Kimmel Center in Philadelphia. Additionally, Miller will work with The Gay Men's Chorus of Washington, D. C. to develop a new production of Carmina Burana to be performed at the Kennedy Center.
DanceMasters Weekend is a two-day immersion in contemporary dance, featuring ten Master Classes and a Choreographers Conversation.

A Weekend Pass, which includes five Master Classes, is $75 for the general public (plus a $6 class registration fee), or $55 for Wesleyan students.

Master Classes: Saturday, March 5, 2016 from 10am to 5pm

Master Classes: Sunday, March 6, 2016 from 11am to 2:30pm

Classes are designed for students with intermediate to advanced dance experience. Master Class teachers will incorporate technique and movement combinations from their repertoire.

To register for Master Classes: call 860-685-3355, mail or bring a registration form to the Wesleyan University Box Office, 45 Wyllys Avenue, Middletown, CT 06459.