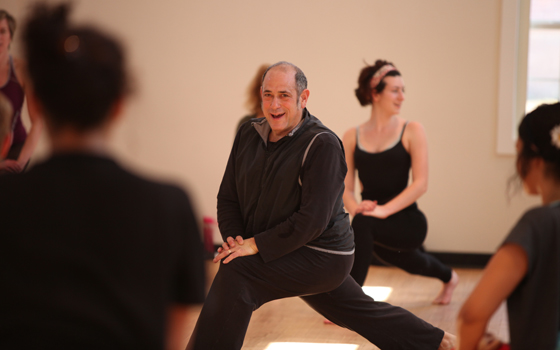 DanceMasters Weekend: Master Class - David Dorfman - SOLD OUT
Saturday, March 5, 2016 at 10:00am
Bessie Schonberg Dance Studio, 247 Pine Street, Middletown
$19 per class, $13 for Wesleyan students
David Dorfman
, Artistic Director of 
David Dorfman Dance
, will teach a Master Class that will provide an opportunity for intermediate to advanced dance students and dance professionals to explore diverse dance techniques during DanceMasters Weekend.
Since 1987, David Dorfman has been the Artistic Director of David Dorfman Dance, an immodestly named, acclaimed New York City-based modern dance company; and since 2004, a Professor of Dance and Department Chair at Connecticut College, where David Dorfman Dance is Company in Residence. He holds an M.F.A. in Dance from Connecticut College (1981), and recently received the Distinguished Alumni Award from the Olin School of Business at Washington University in St. Louis, where he received his B.S.B.A. in 1977. Mr. Dorfman is the recipient of a Guggenheim Foundation Fellowship and others. In October 2013, David Dorfman Dance completed its third run at Brooklyn Academy of Music's prestigious Next Wave Festival with Come, and Back Again. In August 2014 the company enjoyed a sold-out run at BAM's Fishman Space of UNSETTLED, a new collaborative evening on the subject of reconciliation, created with Turkish and Armenian dancers as a part DanceMotion USA, a program of the U.S. Department of State's Bureau of Educational and Cultural Affairs, which brought David Dorfman Dance to Turkey, Tajikistan, and Armenia in April and May 2014, and to Bates Dance Festival in July and August 2014. In March 2014, David Dorfman Dance returns to Armenia and Turkey for reunion performances of UNSETTLED. Mr. Dorfman has resided in New London, Connecticut since 2004 with his dancing family - wife Lisa Race who also teaches at Connecticut College, and son Samson Race Dorfman, who attends Pine Point School in Stonington.
DanceMasters Weekend
is a two-day immersion in contemporary dance, featuring ten Master Classes and a Choreographers Conversation.
A
Weekend Pass
, which includes five Master Classes, is $75 for the general public (plus a $6 class registration fee), or $55 for Wesleyan students.
Master Classes
: Saturday, March 5, 2016 from 10am to 5pm
Master Classes
: Sunday, March 6, 2016 from 11am to 2:30pm
Classes are designed for students with intermediate to advanced dance experience. Master Class teachers will incorporate technique and movement combinations from their repertoire.
To register for Master Classes: call 860-685-3355, mail or bring a
registration form
to the Wesleyan University Box Office, 45 Wyllys Avenue, Middletown, CT 06459.