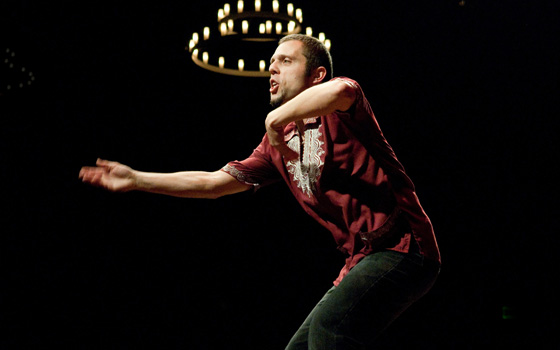 DanceMasters Weekend: Master Class - Max Pollak
Saturday, March 5, 2016 at 3:30pm
Cross Street Dance Studio, 160 Cross Street, Middletown
$19 per class; $13 per class for Wesleyan students
Saturday, March 5, 2016 from 3:30pm - 5pm

Max Pollak, of RumbaTap, will teach a Master Class that will provide an opportunity for intermediate to advanced dance students and dance professionals to explore diverse dance techniques during DanceMasters Weekend.

Max Pollak will be teaching his first DanceMasters Weekend Master Class at Wesleyan in 2016.

Max Pollak, is a Bessie Award nominee 2011, 2010 Individual Artist Grantee of the Northern Manhattan Arts Alliance and 2008 fellow in Choreography from the New York Foundation of the Arts. He is one of the most prestigious names on the international tap scene today. He is recognized worldwide for his superior musicianship and his highly individual style as the first person to merge authentic Afro-Cuban music and dance with American rhythm tap and body music to create RumbaTap.

Originator of Cuba's first tap festival, he has been teaching and performing there since 1998, and has worked with Los Muñequitos de Matanzas, Cuba's top Rumba group, Chucho Valdés, Lila Downs and jazz legends Ray Brown, Phil Woods, Paquito D'Rivera, Slide Hampton and Danilo Perez.

He is also recognized for making European and South American classical music more accessible by playing with classical ensembles in prestigious venues like Vienna's Konzerthaus, Musikverein, Havana's Teatro Nacional and Teatro Amadeo Roldan. He has performed with members of both the Vienna Philharmonic and the New York Philharmonic as well as the Duluth Superior and Plano Symphony Orchestras, with the latter two as soloist in the Morton Gould Tap Dance Concerto.

On faculty at Sarah Lawrence College, he travels the world with his group RumbaTap and is about to release his first CD recording.
DanceMasters Weekend is a two-day immersion in contemporary dance, featuring ten Master Classes and a Choreographers Conversation.

A Weekend Pass, which includes five Master Classes, is $75 for the general public (plus a $6 class registration fee), or $55 for Wesleyan students.

Master Classes: Saturday, March 5, 2016 from 10am to 5pm

Master Classes: Sunday, March 6, 2016 from 11am to 2:30pm

Classes are designed for students with intermediate to advanced dance experience. Master Class teachers will incorporate technique and movement combinations from their repertoire.

To register for Master Classes: call 860-685-3355, mail or bring a registration form to the Wesleyan University Box Office, 45 Wyllys Avenue, Middletown, CT 06459.