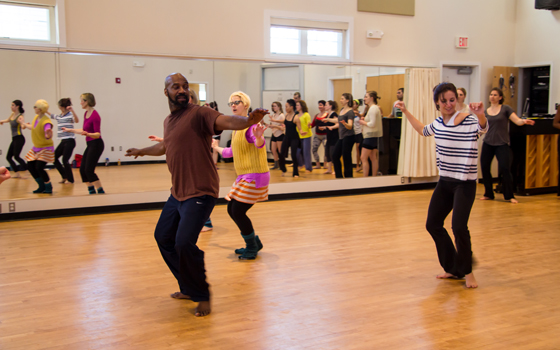 DanceMasters Weekend: Master Class - Ronald K. Brown - SOLD OUT
Saturday, March 5, 2016 at 1:30pm
Cross Street Dance Studio. 160 Cross Street, Middletown
$19 per class; $13 per class for Wesleyan students
Saturday, March 5, 2016 from 1:30pm - 3pm
Ronald K. Brown, Founder and Artistic Director of Evidence, A Dance Company, will teach a Master Class that will provide an opportunity for intergenerational dance students and dance professionals to explore various dance techniques with and emphasis on alignment, rhythm and using the body to express ideas and themes; strength, prayer, and celebration during DanceMasters Weekend.
Classes begin with meditation and floor work that includes stretching and mind body centering exercises. Center floor work or barre work includes alignment and the introduction of the various dance techniques that are incorporated in the vocabulary of Ronald K. Brown/Evidence, A Dance Company. Phrases across the floor use influences from western modern dance as well as traditional and social dances from West Africa, the Caribbean and the US.
Ronald K. Brown (Founder/Artistic Director) Founded Evidence, A Dance Company in 1985. He has worked with Mary Anthony Dance Theater and Jennifer Muller/The Works. Brown has set works on Alvin Ailey American Dance Theater, Ailey II, Philadanco, Cleo Parker Robinson Ensemble, Dayton Contemporary Dance Company, Jennifer Muller/The Works, Philadanco, and Muntu Dance Theater of Chicago, Ballet Hispanico and MalPaso.

He choreographed Regina Taylor's, Crowns and won an AUDELCO Award for his work on that production. Brown has received two Black Theater Alliance Awards and a Fred and Adele Astaire Award for Outstanding Choreography on Broadway for the Tony Award Winning The Gershwin's' Porgy and Bess.
In addition Brown has received; Doris Duke Artist Award, John Guggenheim Memorial Fellowship, National Endowment for the Arts Choreographers Fellowship, New York Foundation for the Arts Fellowship, United States Artists Rose Fellow, The Ailey Apex Award for teaching and Def Dance Jam Mentor of the Year Award.
DanceMasters Weekend is a two-day immersion in contemporary dance, featuring ten Master Classes and a Choreographers Conversation.

A Weekend Pass, which includes five Master Classes, is $75 for the general public (plus a $6 class registration fee), or $55 for Wesleyan students.

Master Classes: Saturday, March 5, 2016 from 10am to 5pm

Master Classes: Sunday, March 6, 2016 from 11am to 2:30pm

Classes are designed for students with intermediate to advanced dance experience. Master Class teachers will incorporate technique and movement combinations from their repertoire.

To register for Master Classes: call 860-685-3355, mail or bring a registration form to the Wesleyan University Box Office, 45 Wyllys Avenue, Middletown, CT 06459.