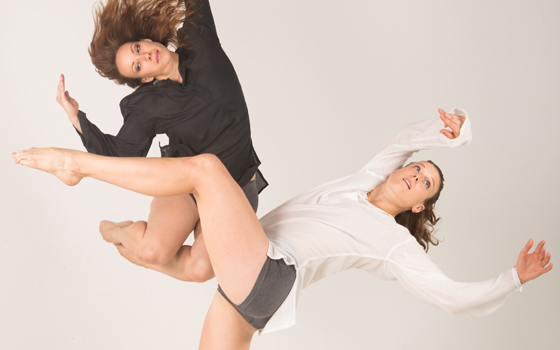 DanceMasters Weekend: Master Class - Elizabeth Coker
Sunday, March 6, 2016 at 1:00pm
Bessie Schönberg Dance Studio, 247 Pine Street, Middletown
$19 per class; $13 per class for Wesleyan students
Sunday, March 6, 2016 from 1pm - 2:30pm

Elizabeth Coker, dancer and Co-Artistic Director at Sean Curran Dance, will teach a Master Class that will concentrate on a multi-disciplined approach to contemporary dance training and technique during DanceMasters Weekend. Beginning with a thorough warm-up that incorporates sense-awakening improvisation, ideas of release technique, and principles of yoga, the class will progress using exercises derived from Cunningham and Limon techniques. There is an awareness of weight, flow, space, anatomy and rhythm throughout the class. Our exploration will culminate with phrasework from Seán Curran Company's most recent repertory.

Elizabeth Coker will be teaching her first DanceMasters Weekend Master Class at Wesleyan in 2016.

Elizabeth (Betsy) Coker trained at the Washington School of Ballet and the Ballet Nacional de Cuba before joining The Washington Ballet. She has been a member of the Seán Curran Company since 2006, and its Co-Artistic Director since 2014. Elizabeth graduated summa cum laude/Phi Beta Kappa from Columbia University with a degree in psychology and is currently a doctoral candidate at Teachers College of Columbia University specializing in Motor Learning and Control.

Elizabeth is Visiting Assistant Arts Professor at Tisch School of the Arts/New York University. She has taught and set choreography in university dance departments and dance companies across the country. She has assistant choreographed for and/or appeared with the Limon Dance Company, Royal Winnipeg Ballet, Opera Theatre of Saint Louis, Opera de Montreal, PortOpera, San Diego Opera and Yale Repertory Theater.
DanceMasters Weekend is a two-day immersion in contemporary dance, featuring ten Master Classes and a Choreographers Conversation.

A Weekend Pass, which includes five Master Classes, is $75 for the general public (plus a $6 class registration fee), or $55 for Wesleyan students.

Master Classes: Saturday, March 5, 2016 from 10am to 5pm

Master Classes: Sunday, March 6, 2016 from 11am to 2:30pm

Classes are designed for students with intermediate to advanced dance experience. Master Class teachers will incorporate technique and movement combinations from their repertoire.

To register for Master Classes: call 860-685-3355, mail or bring a registration form to the Wesleyan University Box Office, 45 Wyllys Avenue, Middletown, CT 06459.