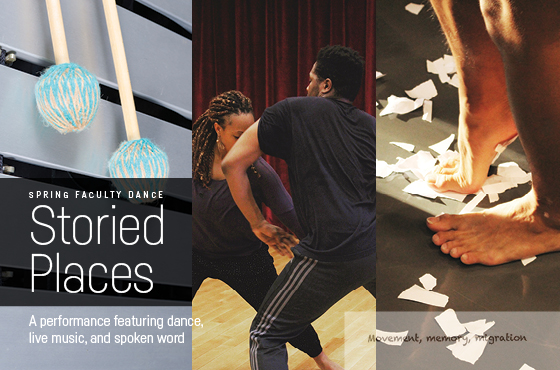 Spring Faculty Dance Concert: Storied Places
Friday, April 15, 2016 at 8:00pm
CFA Theater
$10 general public; $10 senior citizens, Wesleyan faculty/staff/alumni, non-Wesleyan students; $5 Wesleyan students
Saturday, April 16, 2016 at 8:00pm
CFA Theater
$10 general public; $10 senior citizens, Wesleyan faculty/staff/alumni, non-Wesleyan students; $5 Wesleyan students
Click here to view photos from this event on Flickr.
Choreography and Direction by Chair and Associate Professor of Dance, Associate Professor of African American Studies and Environmental Studies Nicole Stanton

Original Composition and Musical Direction by Adjunct Professor of Music and African American Studies Jay Hoggard

Narrative Text by Chair and Class of 1958 Distinguished Professor of African American Studies, Professor of English and Feminist, Gender and Sexuality Studies, and Director of the Center for African American Studies Lois Brown

Visual Scenography and Design by Visiting Assistant Professor of Public Policy L'Merchie Frazier

This collaborative project, inspired by African American histories of migration and arrival, is rooted in a multi-faceted conception of renaissance, and explores states of past and present, of vitality and decay, and of presence and absence. This project engages with questions of the multiplicity of African American performance practices, the vital weaving of tradition and experimentation, and the ways in which dancing bodies serve as moving histories and testimonies to and of storied places.

Storied Places features dance and spoken word by Visiting Assistant Professor of Dance Dante Brown '09, Sydnie Liggett, Kellie Lynch, Rick Manayan '17, and Annie Wang; and live music by the Jay Hoggard Harlem Hieroglyphs Ensemble including pianist and organist Warren Byrd, bassist Belden Bullock, Visiting Assistant Professor of Music and Private Lessons Teacher Pheeroan akLaff on drums, and Wesleyan graduate music student Sean Sonderegger on saxophone; plus members of the Cross Street A.M.E. Zion Church Choir.

Watch a work in progress showing of Storied Places as part of "The CHIN Project," the culminating showcase of the "DEVICES: Choreographic Intensive" in August 2015 at the 92nd Street Y, New York, New York. With Nik Owens '12. Filmed by Alex Springer.



Made possible with support from the Dance Department, the Allbritton Center for the Study of Public Life, the Center for the Arts, the Office of Academic Affairs, and the Center for African American Studies and African American Studies Program.

Photos above by Elizabeth Elliott '16.