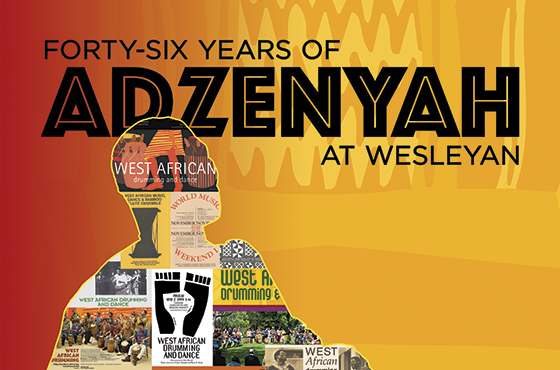 All-Night Highlife Dance Party
Saturday, May 7, 2016 at 7:30pm
Fayerweather Beckham Hall
$6 Wesleyan students; $15 all others
Click here to view photos from this event on Flickr.
Featuring the Abraham Adzenyah Tribute Band including Abraham Adzenyah MA '79; David Bindman '85, MA '87; Wes Brown '74; royal hartigan MA '83, Ph.D. '86; and Rob Lancefield '82, MA '93, Ph.D. '05 performing highlife and beyond; Samba New York! founded and led by Philip Galinsky Ph.D. '99, performing Brazilian samba; The Chief Patrick Okwy Osadebe Highlife Band International performing Nigerian highlife, Berklee College of Music's Afro Pop Ensemble performing African pop, Ayanda Clarke '99 and Asase Yaa Entertainment
Group performing Pan-African fusion; and Urban Renewal performing funk, R&B, and West African traditional and fusion music in celebration of master drummer Abraham Adzenyah, Adjunct Professor of Music, Retired.

Make a gift in honor of Abraham to support the Abraham Adzenyah Endowed Wesleyan Scholarship, go to give.wesleyan.edu.  Under giving priority, please choose "Adzenyah Scholarship."