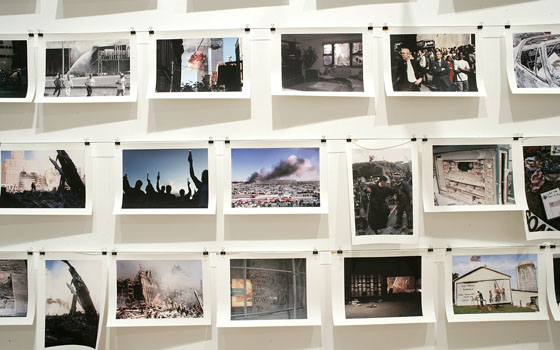 Opening Reception: here is new york—a democracy of photographs
Tuesday, September 13, 2016 at 5:30pm
Main Gallery, Ezra and Cecile Zilkha Gallery
FREE!
An opening reception will be held for here is new york, an exhibition of photographs made in response to the events of September 11, 2001. What began as one photo hung in the window of a SoHo storefront directly after the attacks became a means for everyone to have a voice beyond the conventional networks of reportage. Marking the fifteenth anniversary of September 11, this is the first time the photographs have been exhibited in Connecticut. At Wesleyan, the exhibition will replicate the democratic setting of the original exhibition, featuring photographs given to the Davison Art Center at Wesleyan University by Charles Traub and Aaron Traub in 2014.

here is new york will be on display in the Ezra and Cecile Zilkha Gallery from Friday, September 9 through Sunday, October 9, 2016.
Image: here is new york collection, School of Visual Arts Archives/Visual Arts Foundation
A World of Arts in the Heart of Connecticut