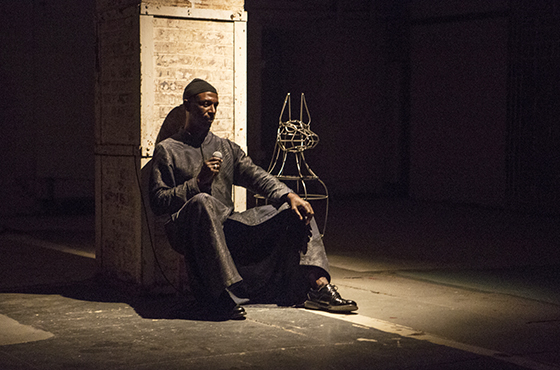 Kaneza Schaal: GO FORTH
Friday, September 16, 2016 at 7:00pm
CFA Theater
SOLD OUT
Friday, September 16, 2016 at 10:00pm
CFA Theater
SOLD OUT
Saturday, September 17, 2016 at 2:00pm
CFA Theater
SOLD OUT
Saturday, September 17, 2016 at 8:00pm
CFA Theater
SOLD OUT
Click here to view photos from the GO FORTH dress rehearsal on flickr.
All performances of GO FORTH are sold out. A waiting list will begin one hour prior to each performance at the venue.

There will be post-show talkbacks moderated by Wesleyan faculty after the following two performances:
Friday, September 16, 2016 at 7pm with Professor of Anthropology and Feminist, Gender and Sexuality Studies Gina Athena Ulysse
Saturday, September 17, 2016 at 2pm with Assistant Professor of Theater Marcela Oteíza

 "...as much about life as it is death, and how we can never sever one from the other."
—The New York Times

New England Premiere

Actor/director Kaneza Schaal '06 offers a powerful meditation on loss, grief, and ritual in a performance incorporating projection, sound, text, and movement. Inspired by the Egyptian Book of the Dead--a 3000-year-old series of spells and incantations intended for the deceased as a blueprint to the afterlife--GO FORTH (2016) creates space for the presence of the absent, the imagined, and the longed for.



Ms. Schaal previously spoke about her professional career in acting at "Theater after Wesleyan: Class of '06" in February 2012 in the Ring Family Performing Arts Hall (former CFA Hall).

Presented by the Theater Department and Center for the Arts. The Inner-City News is a Media Sponsor of these performances.

GO FORTH was commissioned by Performance Space 122 with support from the Jerome Foundation and supported by a Nathan Cummings Foundation grant, Foundation for Contemporary Arts Emergency, Baryshnikov Arts Center residency, The Princess Grace Foundation, Lower Manhattan Cultural Council Process Space Residency, a Bogliasco Fellowship, and research trip to Cairo, Luxor and Aswan. GO FORTH was presented at the Genocide Memorial Amphitheater in Kigali Rwanda this summer with support from a Theater Communications Group Global Connections grant.