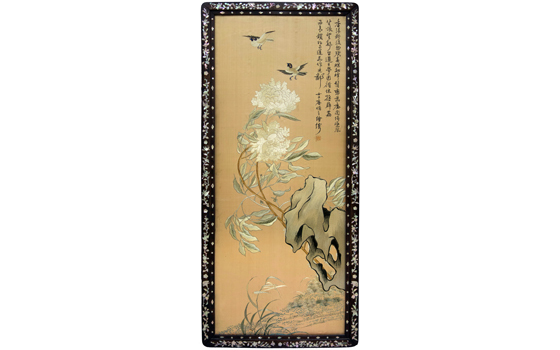 Opening and Gallery Talk: Draw Yourself In
Wednesday, September 21, 2016 at 12:00pm
Mansfield Freeman Center
FREE!
Opening and Gallery Talk with student curators: Wednesday, September 21, 2016 at Noon; a luncheon buffet will be served.
Featuring some of the Mansfield Freeman Center's finest works, Draw Yourself In is an audience-participation exhibition. The aim is for you to reimagine the exhibited works in new forms and mediums. Scattered throughout the gallery are regular and colored pencils and a whole lot of paper. Drawing something lets you interact with a work more closely, to see things you might miss. The possibilities are endless, so you are invited to embark on an enjoyable and unique expedition into the diverse art forms of East Asia.

On display: Wednesday, September 21 through Friday, December 9, 2016
Closed Saturday, October 22 through Tuesday, October 25; and Saturday, November 19 through Monday, November 28, 2016.
Image: Silk Embroidery with Birds, Peonies and Scholar's Rocks in Hardwood Frame with Mother of Pearl Inlay, Southeast China (possibly Fuzhou), before 1925.