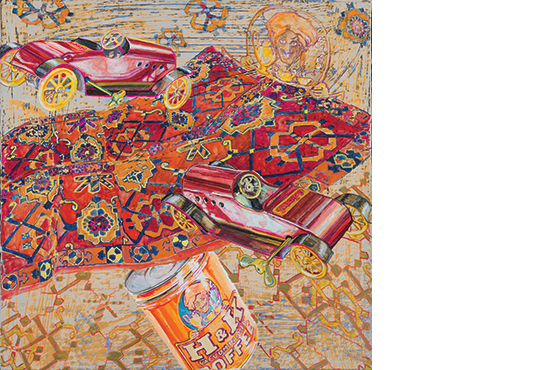 Family Weekend Preview: FLYING CARPETS—new paintings by David Schorr
Saturday, October 29, 2016 at 2:00pm
Main Gallery, Ezra and Cecile Zilkha Gallery
FREE!
Family Weekend Preview: Saturday, October 29, 2016 from 2pm to 4pm; Gallery Talk by Professor of Art David Schorr at 2:30pm.
Professor of Art David Schorr's solo exhibition and site-specific installation FLYING CARPETS revisits his childhood days spent playing on his grandmother's Persian rugs. In the paintings, gouache with silverpoint drawing on linen, he recreates the richly-colored world of his young imagination, contrasting familiar toys from the mid 20th century with images that hint at the exotic and expansive world beyond his home. The artist brings the actual subjects of the paintings in a site-specific installation. The exhibition is accompanied by a fully illustrated catalog designed by David Schorr, featuring an essay by poet Jonathan Galassi.
On display from Thursday, October 27 through Sunday, December 11, 2016.
Closed Wednesday, November 23 through Monday, November 28, 2016.
David Schorr, Red Roadsters, 22 x 22 inches, gouache and silverpoint on linen. Courtesy Ryan Lee Gallery, New York (photograph: John Giammatteo)