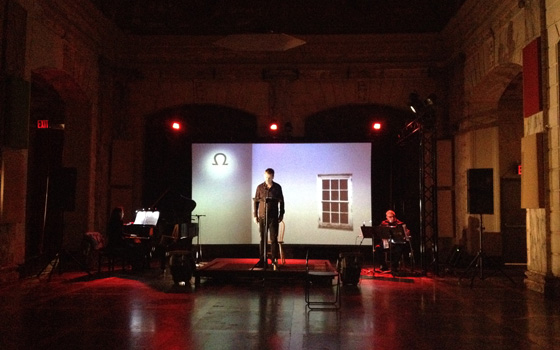 Elliott Sharp's Port Bou—a chamber opera
Tuesday, December 6, 2016 at 9:00pm
Ring Family Performing Arts Hall (former CFA Hall) - VENUE CHANGE
FREE!
"Scored for accordion and piano and blended with pre-recorded electroacoustic music, the soundtrack aptly mirrored Benjamin's state of mind: eerie, haunted and at times cacophonous."
—The New York Times
The New England premiere of the opera Port Bou (2014) by Elliott Sharp depicts the last moments in the life of philosopher Walter Benjamin at Port Bou, in 1940, as he was fleeing Nazi-occupied France. Port Bou features the astounding bass-baritone Nicholas Isherwood with virtuosi Jenny Lin on piano and William Schimmel on accordion, as well as electroacoustic backing tracks by Mr. Sharp. Projection design by Janene Higgins.
Click here to view photos from this event on Flickr.