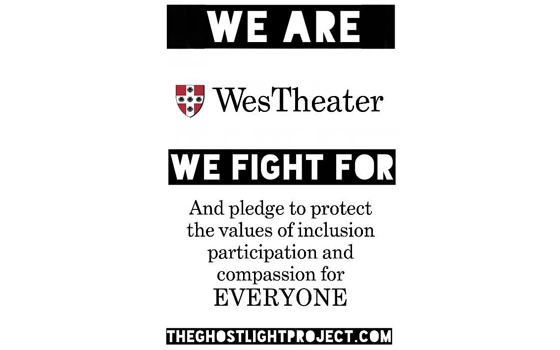 The Ghostlight Project
Thursday, January 19, 2017 at 5:15pm
CFA Theater Studio, 275 Washington Terrace, Middletown
FREE!
The Wesleyan University Theater Department joins members of the theater community - from Broadway and regional theaters to high schools, colleges, and community theaters - to launch
The Ghostlight Project
's "Be A Light" campaign, pledging to protect the values of inclusion, participation, and compassion for everyone—regardless of race, class, religion, country of origin, immigration status, (dis)ability, age, gender identity, or sexual orientation.
Gather outside on the steps of the CFA Theater Studio building, located at 275 Washington Terrace on the Wesleyan campus in Middletown. Everyone who attends should have a light source that is off when they arrive. At a specific time in the ceremony, all will be asked to turn on their lights to create a giant "blaze." Lights can be anything—a flashlight, cell phone, lamp, or any creative symbol you come up with. Shine a light on equality, diversity, and hope, and make a pledge that we will remain a safe haven, whereby all are welcome to live and love in the power and humanity of shared experiences through art.
On the eve of the Presidential Inauguration, join in a collective, simultaneous action, creating "light" for challenging times ahead. Inspired by the tradition of leaving a "ghost light" on in a darkened theater, help create brave spaces that will serve as lights in the coming years, and activate a network of people across the country working to support vulnerable communities. This is not a substitution for protests or direct action, but rather a pledge for continued vigilance and increased advocacy.
Please join us as we light the light.
Click here to join this event on Facebook.
#GhostlightProject
#AllAreWelcome
#BeALight