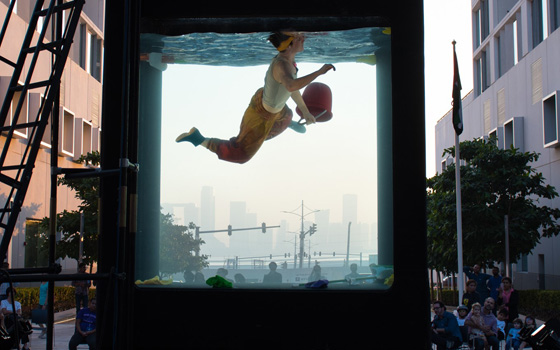 Lars Jan: Autopsy of a Performance Before it's Dead
Wednesday, February 1, 2017 at 6:00pm
Ring Family Performing Arts Hall

FREE!
As part of the University Lecture series, Lars Jan will give a lecture about his recent performance work, The Institute of Memory (TIMe), which embodies the effect of memory on the lives we choose to live.
 
Lars Jan is a creator of performance and installation works that have been presented internationally and across the United States, in venues such as the BAM Next Wave Festival, Sundance Film Festival, and Whitney Museum of Art. Lars Jan is a director, writer, visual artist, and the founding artistic director of Early Morning Opera, a genre-bending performance + art lab whose works explore emerging technologies, live audiences, and unclassifiable experience.  Lars Jan creates moments in time/performance that are unforgettable. His work goes far beyond the proscenium and utilizes technology such as video screens and kinetic light sculpture to tell stories in unprecedented ways. These projects encompasses theater, installation, sculpture, and public spectacle, including the climate-change inspired HOLOSCENES, which features performers in a large tank that fills and drains with water.  Mr. Jan's upcoming performance based on Joan Didion's The White Album has been commissioned by BAM and Centre Theatre Group. He is a TED Senior Fellow. 
Presented by the Wesleyan Theater Department with support from the Allbritton Center and the Center for the Arts.