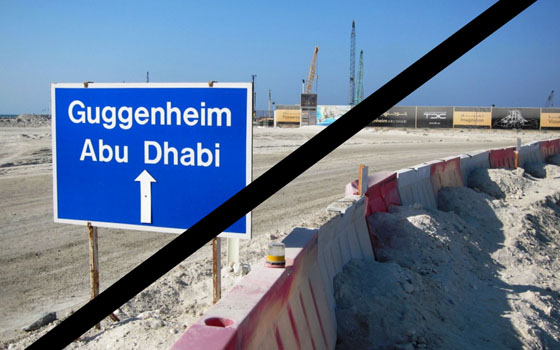 Art | Worker Rights | Globalization - Panel Discussion with Members of G.U.L.F./Gulf Labor
Monday, February 13, 2017 at 4:30pm
Ezra and Cecile Zilkha Gallery, Room 106

FREE!
A panel discussion with Doris Bittar and Noah Fischer, members of G.U.L.F./Gulf Labor, a coalition of artists concerned with labor conditions and worker rights in the construction of international franchise museums (such as the Guggenheim) and other cultural institutions on Saadiyat Island in Abu Dhabi and around the world. Moderated by Wesleyan Assistant Professor of Art History Claire Grace, 
Presented by the Department of Art and Art History and co-sponsored by Wesleyan's Economics Department, Government Department, College of Social Studies (CSS), and Center for Global Studies.
Read more in this December 2016 article in The New Yorker.