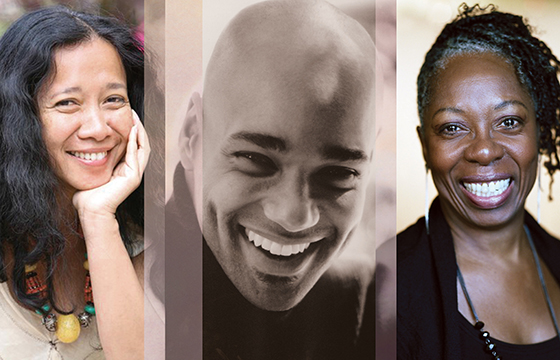 What Does Dance Know? Liberatory Moves for Social Justice
Friday, April 14, 2017 at 4:00pm
Cross Street Dance Studio
The Dance Department's annual Cynthia Novack Lecture features a roundtable conversation with Darrell Jones, Diyah Larasati, and Jawolle Willa Jo Zollar, followed by a reception.
Co-sponsored by the Dance Department, African American Studies Program, and Office of Academic Affairs.
Darrell Jones has performed in the United States and abroad with a variety of companies such as Bebe Miller, Urban Bush Women, Ronald K. Brown, Min Tanaka, Ralph Lemon and KOKUMA DanceTheater. He has collaborated with choreographers (Angie Hauser, Jeremy Wade, Onye Ozuzu), writer (Cheryl Boyce-Taylor), musicians (Jessie Mano, Brian Schuler) and designer (Mawish Syed) in dance films, documentations and interactive multimedia installations. In addition to his collaborative work he continues to work in solo forms. Along with performing, Darrell has taught workshops and master classes in dance technique and compositional processes throughout the United States, South Africa, United Kingdom and South Korea. Darrell is presently a full-time faculty member at the Dance Center of Columbia College in Chicago.
Diyah Larasati is an Associate Professor of cultural theory and historiography in the Department of Theatre Arts & Dance at the University of Minnesota. She is also a faculty advisor and affiliate of the Interdisciplinary Center for the Study of Global Change, and an affiliate faculty in the feminist studies (GWSS) and Asian Literatures, Cultures, and Media (all departments). Her book, The Dance that Makes You Vanish: Cultural Reconstruction in Post-Genocide Indonesia (University of Minnesota Press, 2013) theorized global corporeal commodification through genocide. She has published articles focusing on decolonialization and feminist third world tactics of transnationalism. Her new book project, Dancing in the Forest: Modern Machine and Audio Politics of Land Narrative, interrogates the aesthetic encounter between indigenous voices and capitalist noise within neoliberal space. Her most recent writings are "The Rethinking of Remembering: Who Lays Claim to Speech in the Wake of Catastrophe?" (Editor: Fazil Moradi, Ralph Buchenhorst, Maria Six-Hohenbalken, Roudledge, 2017); "From Che to Guantanamera: Decolonizing the Corporeality of the Displaced," (Rowman & Littlefield International, Kilombo: International Relations and Colonial Questions); "The Dancing Goddess: Ecological Memory, Technique, and the Inquiry of Value in Globalized Space," (Smithsonian, Performing Indonesia, 2016); "Theorizing the Archive: Corporealness, Decolonization of Thinking and Tactics, and Playfulness of Memory," (IVAA, 2014). Her most recent international keynote addresses are: "Dancing the Traces of Empire Between the International and Speaking of Specificity" (in China, Guangzhou Academy of Social Science, 2016); "Reviving Culture for Rural Sustanaibility" (World Culture Forum, Indonesia/ UNESCO 2016).
Jawole Willa Jo Zollar is founder/visioning partner of Urban Bush Women. From Kansas City, Missouri, Jawole Willa Jo Zollar trained with Joseph Stevenson, a student of the legendary Katherine Dunham. After earning her B.A. in Dance from the University of Missouri at Kansas City, she received her M.F.A. in Dance from Florida State University. In 1980 Jawole moved to New York City to study with Dianne McIntyre at Sounds in Motion. In 1984, Jawole founded Urban Bush Women (UBW) as a performance ensemble dedicated to exploring the use of cultural expression as a catalyst for social change. In addition to 34 works for UBW, she has created works for Alvin Ailey American Dance Theater, Philadanco, University of Maryland, Virginia Commonwealth University and others; and with collaborators including Compagnie Jant-Bi from Senegal and Nora Chipaumire. In 2006 Jawole received a New York Dance and Performance Award (Bessie) for her work as choreographer/creator of Walking With Pearl…Southern Diaries. Featured in the PBS documentary, Free to Dance, which chronicles the African-American influence on modern dance, Jawole was designated a Master of Choreography by the John F. Kennedy Performing Arts Center in 2005. Her company has toured five continents and has performed at venues including Brooklyn Academy of Music, Lincoln Center for the Performing Arts and The Kennedy Center. UBW was selected as one of three U.S. dance companies to inaugurate a cultural diplomacy program for the U.S. Department of State in 2010. In 2011 Jawole choreographed visible with Chipaumire, a theatrical dance piece that explores immigration and migration. In 2012 Jawole was a featured artist in the film Restaging Shelter, produced and directed by Bruce Berryhill and Martha Curtis, and currently available to PBS stations. Jawole developed a unique approach to enable artists to strengthen effective involvement in cultural organizing and civic engagement, which evolved into UBW's acclaimed Summer Leadership Institute. She serves as director of the Institute, founder/visioning partner of UBW and currently holds the position of the Nancy Smith Fichter Professor of Dance and Robert O. Lawton Distinguished Professor at Florida State University. A former board member of Dance/USA, Jawole received a 2008 United States Artists Wynn fellowship and a 2009 fellowship from the John Simon Guggenheim Memorial. Still dancing, she recently toured in a sold-out national tour presented by 651 ARTS as a leading influential dancer/choreographer on a program that included her early mentor Dianne McIntyre, her collaborator Germaine Acogny, Carmen de Lavallade and Bebe Miller. As an artist whose work is geared towards building equity and diversity in the arts Jawole was awarded the 2013 Arthur L. Johnson Memorial award by Sphinx Music at their inaugural conference on diversity in the arts. In 2013, Jawole received the Doris Duke Performing Artist Award and honorary degrees from Tufts University and Rutgers University. Recently, Jawole received the 2016 Dance Magazine award and the 2016 Dance/USA Honor Award.
Click here to see photos from this event.