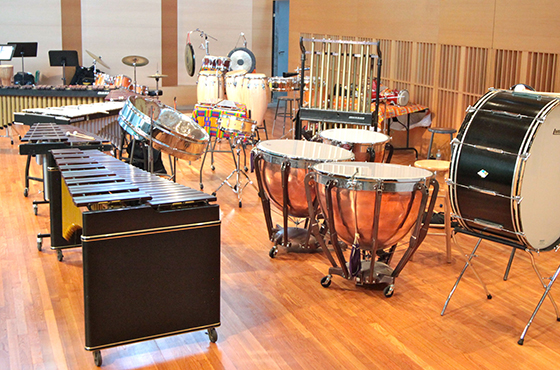 Connecticut Percussive Arts Society "Day of Percussion"
Saturday, April 29, 2017 at 8:30am
Crowell Concert Hall, World Music Hall, and Adzenyah Rehearsal Hall
$20 for the general public; $10 for members of the Percussive Arts Society, Connecticut Music Educators Association, Wesleyan faculty/staff/alumni, senior citizens, and youth under age 18; free for Wesleyan students
The Wesleyan Music Department hosts the annual meeting of the Connecticut Percussive Arts Society, featuring an exploration of the world of percussion with Wesleyan ensembles including the West African Drumming Ensemble, Taiko Drumming Ensemble, Korean Drumming Ensemble, and WesWinds, as well as several visiting ensembles from other Connecticut colleges and universities, including Sacred Heart University, Western Connecticut State University, Eastern Connecticut State University, University of Connecticut, and Bedford Middle School. This Day of Percussion is part of the 16th annual Wesleyan Jazz Orchestra Weekend.
SCHEDULE*
8:30am: Crowell Concert Hall
Registration and Vendor Visit Time
9:00am-9:15am: Crowell Concert Hall
Welcome, Founders Award, Keiko Abe Premiere
9:20am-10am: Adzenyah Rehearsal Hall 003 (Daltry Room)
Kevin Thompson Snare Drum Clinic
10:10am-11am: Crowell Concert Hall
Eastern Connecticut State University and Sacred Heart University Percussion Ensembles
11:10am-12pm: Adzenyah Rehearsal Hall 003 (Daltry Room)
Mark Guiliana Drumset Clinic
12:10pm-12:30pm: Crowell Concert Hall
Bedford Middle School Percussion Ensemble
12:30pm-1:00pm: 
Lunch Break
1:10pm-1:30pm: World Music Hall
Wesleyan University Taiko Drumming Ensemble
1:40pm-2:20pm: World Music Hall Lower Lobby
Shawn Mativetsky Tabla Clinic
2:40pm-3:00pm: World Music Hall
Wesleyan University Korean Drumming Ensemble
3:20pm-3:40pm: Crowell Concert Hall
WesWinds Ensemble
3:50pm-4:40pm: Crowell Concert Hall
University of Connecticut and Western Connecticut State University Percussion Ensembles
4:50pm-5:30pm: Adzenyah Rehearsal Hall 003 (Daltry Room)
Darick Kelly and Reuel Marching Percussion Clinic
5:30pm: Adzenyah Rehearsal Hall 003 (Daltry Room)
Door Prizes
8:00pm: Crowell Concert Hall
Wesleyan University Ghanaian Drumming Ensemble
Eli Fountain's Percussion Discussion (This concert has separate pricing. Please visit linked event page for ticket information.)
See also the Wesleyan Jazz Orchestra and Jazz Ensemble concerts on Friday, April 28 at 8pm and Sunday, April 30 at 4pm in Crowell Concert Hall.
*Schedule subject to change. Please check this web page for updates.
Above photo by Maurice D. Robertson 
Click here to see photos from this event.