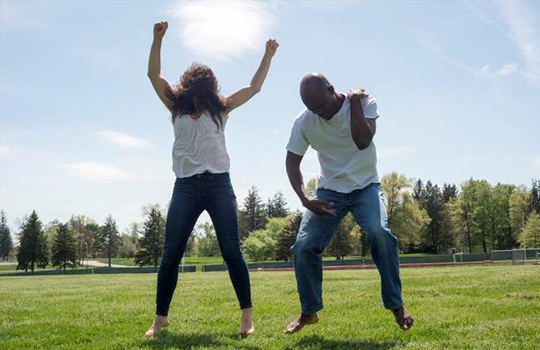 Spring Faculty Dance Concert: Shake
Friday, May 5, 2017 at 8:00pm
CFA Theater

$6 Wesleyan students and youth under 18; $8 all others
Saturday, May 6, 2017 at 8:00pm
CFA Theater

$6 Wesleyan students and youth under 18; $8 all others
Shake is a rambunctious and tender duet born out of a nine-year friendship between Wesleyan Artist in Residence Iddi Saaka and Bates College Associate Professor of Dance Rachel Boggia. The world premiere of their first choreographed work features their shared love of vibratory movement, smooth breath, and cheesy humor; and influences including Ghanaian dance forms, American postmodern dance, fake tap dance, bad jokes, and life experiences.

Click here to read Saaka Premieres Duet Choreography Work at Spring Faculty Dance Concert on the "News @ Wesleyan" blog.
Click here to see photos from this event.