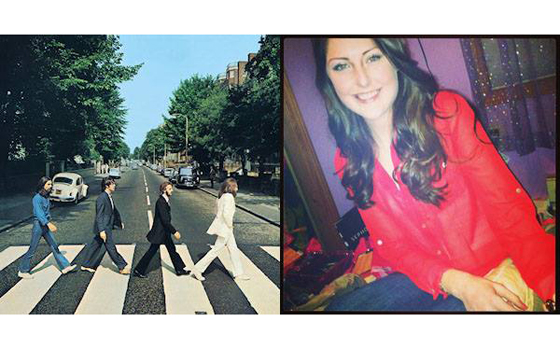 Third annual "Blackbird" Benefit Concert for the Stephanie Nelson Memorial Scholarship Fund
Saturday, June 24, 2017 at 6:00pm
Middlesex Community College Pavilion Deck, 100 Training Hill Road, Middletown, CT

$25 for the general public, $10 for students, and free for kids ages 12 and under.
An "all-star band" will be performing The Beatles' Abbey Road (1969) in its entirety at the third annual "Blackbird" Benefit Concert for the Stephanie Nelson Memorial Scholarship Fund at Middlesex Community College.

Click here to read the article Wesleyan Musicians "Come Together" in All-Star Beatles Tribute Band for Third Annual Benefit Concert on the "News @ Wesleyan" blog. 
This concert will be held outdoors on the Pavilion Deck at Middlesex Community College. Bring a picnic and lawn chairs.
In case of rain the event will take place on Saturday, September 16, 2017 at 6pm inside Chapman Hall.
Funds raised will go towards Middlesex Community College students, with a preference given to students with a desire to work as an intern at Wesleyan University in the field of broadcast communications or multimedia.
The "all-star" band will include drummer Andy Chatfield and bassist Mark Crino (of Stanley Maxwell), vocalists Julie Corbalis, Sarah LeMieux, Samantha Hatch, and Shona Kerr; guitarist Ron LaRosa (of The Future Heavies); Jacob Graham on percussion, Catherine Rousseau on clarinet, Nancy Brown on trumpet, Greg Marshall on keys, Jon Stafford on guitar, Peter Standaart on flute, Dana Saccomano and Sarah McNamara on violin, Mitch Mangan on trombone, Chris Devoe on cello, and Eric Brummitt on French horn.

Join this event on Facebook here.

Watch videos of the performances of The Beatles' Sgt. Pepper's Lonely Hearts Club Band and White Album from the first two concerts on YouTube below:



If you are unable to attend the concert, but would still like to donate to this event, please visit www.mxcc.edu/foundation and scroll down to the donate button.  You can enter your amount in honor of Stephanie Nelson. Thank you in advance for your generosity.