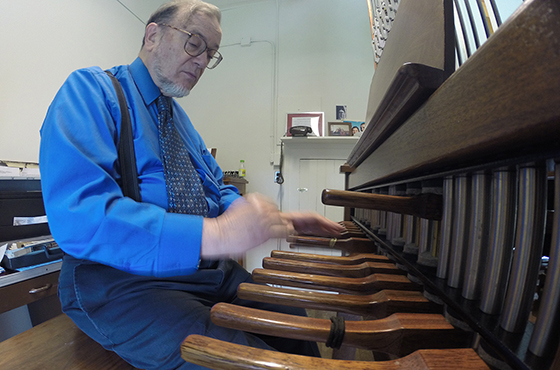 Wesleyan Carillon Concert by George Matthew, Jr.
Thursday, July 13, 2017 at 12:00pm
Wesleyan Carillon in South College
FREE!
George Matthew, Jr. performs a short noontime concert on the Wesleyan Carillon in the South College bell tower. The concert features J.S. Bach's Pastorale (part 2); two anonymous contradances, "La Rochembault" and "La Vandangeuses," and selections from 11 Passing Thoughts by Anthony Skilbeck. Mr. Matthew has made 36 carillon concert tours of the United States and 13 of Europe. He was also the first American to play carillon in Russia. He has been carillonneur of Middlebury College and Norwich University in Vermont since 1985. A church organist since the age of 13, he is currently Organist of St. Stephen's Episcopal Church, Middlebury, Vermont. Mr. Matthew earned a Certificate of Advanced Study in ethnomusicology from Wesleyan in 1980.
Read about his 2015 visit to Wesleyan here.
Image above: George Matthew, Jr. plays the Wesleyan Carillon (photo by Dena Matthews)