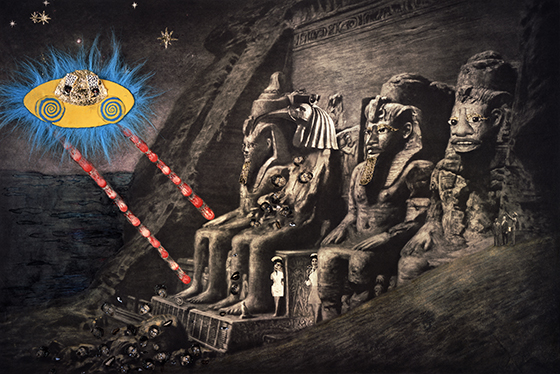 Opening Reception: Black Pulp!
Tuesday, September 19, 2017 at 5:30pm
Main Gallery, Ezra and Cecile Zilkha Gallery

FREE! Open to the public.
Black Pulp! examines the evolving perspectives of black identity in American culture and history from 1912 to 2016 through rare historical printed media shown in dialogue with contemporary art. The exhibition highlights works by artists, graphic designers, writers, and publishers in formats ranging from little known comic books to covers for historic books and magazines, etchings, digital prints, drawings, and media-based works by an intergenerational selection of 21 of today's leading artists from the black diaspora.

Opening Reception: Tuesday, September 19, 2017 from 5:30pm to 7pm.

Exhibition on display through Sunday, December 10, 2017. Closed Monday, November 20 through Monday, November 27, 2017.

Black Pulp! is curated by William Villalongo and Mark Thomas Gibson. The exhibition tour is organized by International Print Center New York.
The exhibition is co-sponsored at Wesleyan by the Center for the Arts, Center for African American Studies and African American Studies Program.

Image above and on homepage: Ellen Gallagher (American, b.1965), Abu Simbel, 2005, Photogravure, watercolor, colored pencil, varnish, pomade, plasticine, blue fur, gold leaf, and crystals. 24 ½ x 35 ½ inches (unframed). Published by Two Palms, New York, Edition: 25. © Ellen Gallagher. Courtesy Gagosian Gallery. Image © 2016 Ellen Gallagher