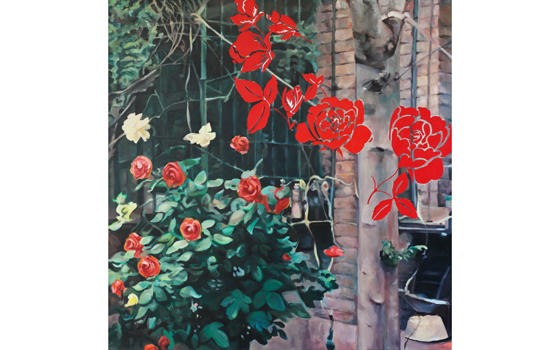 Opening and Gallery Talk: Jiaqi Maria Ma - ( BEIJING l 北京 )
Wednesday, September 20, 2017 at 12:30pm
College of East Asian Studies Gallery at Mansfield Freeman Center
FREE! Open to the public.
The painting process of Jiaqi Maria Ma '17 is similar to the never-ending development of a city. Buildings and passages are created and erased, changed and layered, compositions and neighborhoods shift and mature. Similarly, her feelings for and memories of her hometown of Beijing have evolved as she distances herself geographically and chronologically. Her exhibition ( BEIJING l 北京 ) consists of a series of five paintings based on her experiences of the the capital city of China.

Opening and Gallery Talk with Professor of Art Tula Telfair: Wednesday September 20, 2017 at 12:30pm; a luncheon buffet will be served. The opening and gallery talk celebrates the start of the 30th anniversary season of the College of East Asian Studies.
Exhibition on display through Friday, December 8, 2017.

Closed Saturday, October 21 through Tuesday, October 24, 2017; and Saturday, November 18 through Monday, November 27, 2017.

Image: Jiaqi Maria Ma, from ( BEIJING l 北京 ), 2017, oil on canvas.