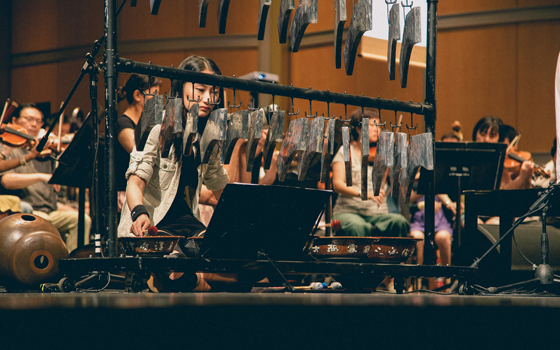 Music Department Colloquium: EarthSounds—The Ceramic Instruments of Tan Dun
Thursday, September 21, 2017 at 4:30pm
World Music Hall

FREE!
"Guerguerian's composition, sensationally performed, devoted itself even more religiously to the possibilities of pure sound."
—The New York Times

A lecture demonstration of EarthSounds—The Ceramic Instruments of Tan Dun by designer Mary Scherbatskoy, performed by percussionists David Cossin and River Guerguerian. These fragile mounted instruments, constructed by master potter Ragnar Naess, are now owned by Wesleyan University.  

Mary Scherbatskoy was the co-founder with composer Tan Dun of his original production company, Crossings. From 1987 to 1995, Crossings produced works for the Earthsounds ceramic ensemble including Nine Songs ritual opera (New York 1987, Hong Kong 1990) and several versions of Soundshape for Ceramics, Voice and Movement in venues including Mary Sharp Cronson's Works and Process at the Guggenheim Museum New York (1990), Edinburgh International Festival (1992), La Mama ETC, and Berkeley Repertory Theatre (1994). Her background is in languages, typography, ethnography, construction trades, agriculture and charitable development.
David Cossin (percussion) was born and raised in Queens, New York, and studied classical percussion at the Manhattan School of Music. His interest in classical percussion, drum set, non-western hand drumming, composition, and improvisation has led to performances across a broad spectrum of musical and artistic forms to incorporate new media with percussion. He has recorded and performed internationally with composers and ensembles including Steve Reich and Musicians, Philip Glass, Yo-Yo Ma, Meredith Monk, Tan Dun, Cecil Taylor, Talujon Percussion Quartet, Terry Riley, Don Byron, Louis Andriessen, and Paul Simon. Numerous theater projects include collaborations with Blue Man Group, Mabou Mines, and director Peter Sellars. He was featured as the percussion soloist in Tan Dun's Grammy and Oscar Award-winning score to Ang Lee's film Crouching Tiger, Hidden Dragon. Recently, he was happy to have performed with Sting on his world tour Symphonicity. Mr. Cossin has performed as a soloist with orchestras throughout the world including the Los Angeles Philharmonic, Orchestra Radio France, Saint Paul Chamber Orchestra, Sao Paulo State Symphony, Shanghai Symphony, Sydney Symphony, Gothenburg Symphony, Hong Kong Symphony, and the Singapore Symphony. Most recently, he premiered Andy Akiho's Ricochet concerto in Shanghai, Beijing, and Hong Kong. His ventures into other art forms include sonic installations, which have been presented in New York, Italy, and Germany. He is also an active composer and has invented several new instruments, which expand the limits of traditional percussion. He is the curator for the Sound Res Festival, an experimental music festival in southern Italy, and also teaches percussion at the Aaron Copland School of Music and the Manhattan School of Music Contemporary Performance Program.
River Guerguerian has been inspiring audiences with his ecstatic and versatile percussion for over 30 years. Whether collaborating with world-class artists, supporting symphonies, or creating his own dynamic rhythmic compositions, his devotion to the vibrant life of the drum reverberates deeply through the mind and soul of the listener. He was born in Canada to Armenian-Egyptian parents and began his journey into musical studies at an early age. In 1989, he received a Bachelor of Music degree from The Manhattan School of Music Conservatory where he was granted the school's award for "Most Outstanding Percussionist." In 1988, just before graduating, he began working with Grammy and Oscar Award-winning composer Tan Dun. Over the next several years he continued performing with highly acclaimed artists, which placed him on the stages of some of the most prestigious concert halls around the world, including Carnegie Hall, The Sydney Opera House, and Lincoln Center. In 1994, he decided to sell all of his possessions and step off of the grid. He resided in a wildlife sanctuary in the Himalayas. The adventure lasted for five years and led to his immersion into extensive nature-inspired research as well as experimentation into the physiological effects of sound upon brainwave states. He continued his investigation of trance-inducing instrumentation as he further explored the music and cultures of the East. Drawing upon his richly diverse experiences, Mr. Guerguerian plays across a remarkable span of musical genres and traditions, both obscure and mainstream. His patient research and unrelenting passion have allowed him to develop a personal and masterful sound from Old World frame drums, Middle Eastern, Indian, Western, African, and Afro-Cuban percussion instruments, and more. His compositions have been commissioned for and performed by chamber ensembles, universities, modern dance companies, and international music festivals. As a highly regarded studio musician, he has recorded on over 200 albums and film soundtracks, including the John Cage documentary film, I Have Nothing to Say and I Am Saying It. Over the span of his prolific career, he has performed and/or recorded with such groups as the BBC Symphony Orchestra, New Music Consort, Omar Faruk Tekbilek, Tibetan Singing Bowl Ensemble, Paul Winter Consort, Talujon Percussion Ensemble, Lizz Wright, Chuck Berry, Sophie B. Hawkins, and Ziggy Marley and The Gipsy Kings. He often engineers his own percussion tracks for artists at his studio. A respected music educator, he is Music Director of the Odyssey Community School in Asheville, North Carolina, where he also regularly teaches group and private lessons for all ages. He also tours internationally with several ensembles and conducts "rhythm and sound exploration" workshops throughout the country. You can hear his lyrical style with The River Guerguerian Project, his world jazz trio Free Planet Radio, and the global Americana group The Billy Sea. Since 1999, he has lived in the beautiful mountains of Asheville with his wife and three daughters. He is the Artistic Director of Asheville Rhythm, which produces the Asheville Percussion Festival, now in it's sixth year; a down-home and world-class experience that summons people from near and far to fellowship, study, and be renewed in their musical practice and in their lives.