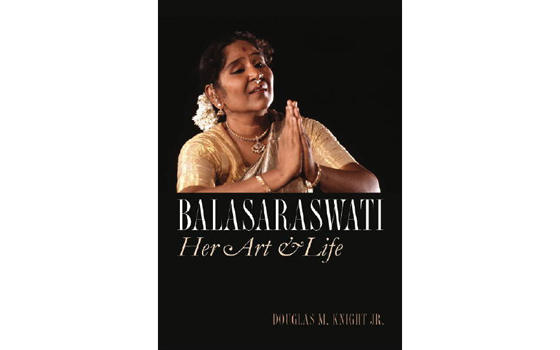 Navaratri Festival: Music Department Colloquium—Balasaraswati: Her Art and Life
Thursday, September 28, 2017 at 4:30pm
Ring Family Performing Arts Hall

FREE!
Author and mridangam virtuoso Douglas Knight '70 will discuss Balasaraswati: Her Art & Life - one book in three editions, for three audiences. The book has appeared in three different editions: an American edition published by Wesleyan University Press in 2010; an English language edition published in India by Westland Books in 2011; and a Tamil translation published by Cre-A Publishers in May 2017. Each edition was intended for a distinct readership, and elicited different responses. He will reflect on how the writing, editing, and publishing of these three editions transformed his understanding of the significance of Bala's story as it "came home."

This event is part of the 41st annual Navaratri Festival at Wesleyan. 

Douglas Knight is an independent musician and scholar. He began to learn mridangam with T. Ranganathan in 1968 while an undergraduate at Wesleyan. He continued with Ranganatham for several years until 1978, except a year as a Fulbright Scholar in India when he studied with MN Kandaswamy, a student of Ranga's teacher. From 1979 to 1981, with a fellowship from the American Institute of Indian Studies, Knight studied accompaniment of bharata natyam with Balasarawati's drummer, Kuppuswamy Mudaliar.

In 1970 he was the first non-Indian to perform mridangam in a karnatic ensemble. He began performing in the U.S. and India with Ranga and Viswa, the traditional way of learning. In India he accompanied several artists, most often Balasaraswati's daughter, Lakshmi. In 1976 he taught with Viswanathan at the University of Wisconsin, and in 1978 at U.C.L.A. Knight taught ethnomusicology at the University of Washington from 1978 to 1979.

Lakshmi, whom Knight accompanied for 25 years, performed throughout North American and India, and was a familiar performer at the Navaratri Festival at Wesleyan during the 1980s and 1990s. Their son, Aniruddha, first performed in India in 1994 and in the U.S. at Jacob's Pillow in 1997. Since then Ani and Douglas have performed dozens of concerts and residencies in the U.S. and India, including programs at Wesleyan in 1999, 2005, and 2008.

Knight has published about 10 articles in India, and lectured throughout the U.S. and India. He began working on a biography of Balasaraswati in 2000 with support from the Asian Cultural Council, the LEF Foundation, a second fellowship from the American Institute of Indian Studies, and a Guggenheim Fellowship. 


Click here to see photos from this event.