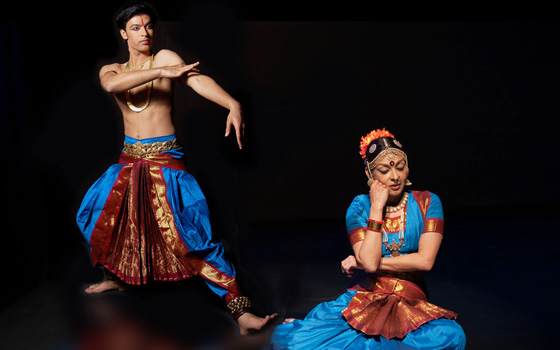 Darpana: Nataraja Vandanam - Love Songs to Shiva
Friday, September 29, 2017 at 8:00pm
Crowell Concert Hall

$28 general public; $26 senior citizens, Wesleyan faculty/staff/alumni, non-Wesleyan students; $6 Wesleyan students, youth under 18
"Captivating performance."
—The Statesman (India)

Mallika Sarabhai and three dancers from India's Darpana Academy of Performing Arts perform Nataraja Vandanam: Love Songs to Shiva, choreographed by Ms. Sarabhai and her mother Mrinalini Sarabhai. In the work, the nayikas (heroines) journey through a wide range of emotions in their joyous, rhythmic celebration of Shiva, one of the principal Hindu deities. Associate Professor of Dance Hari Krishnan engages in a post-performance discussion with Mallika Sarabhai and the dancers from Darpana.
This event is part of the 41st annual Navaratri Festival at Wesleyan.
Click here to see photos from this event.