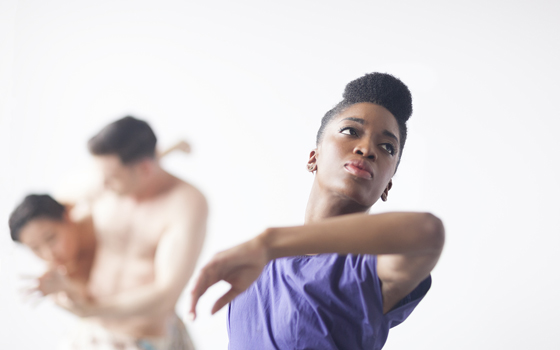 Kyle Abraham/Abraham.In.Motion: Dearest Home
Friday, October 6, 2017 at 8:00pm
CFA Theater [Friday SOLD OUT]

$28 general public; $26 senior citizens, Wesleyan faculty/staff/alumni, non-Wesleyan students; $6 Wesleyan students, youth under 18
Saturday, October 7, 2017 at 2:00pm
CFA Theater

$28 general public; $26 senior citizens, Wesleyan faculty/staff/alumni, non-Wesleyan students; $6 Wesleyan students, youth under 18
Saturday, October 7, 2017 at 8:00pm
CFA Theater

$28 general public; $26 senior citizens, Wesleyan faculty/staff/alumni, non-Wesleyan students; $6 Wesleyan students, youth under 18
Pre-performance discussion on Friday, October 6, 2017 at 7:15pm in the Ezra and Cecile Zilkha Gallery, South Gallery, facilitated by DanceLink Fellow Katie Lowen '19. 

"The sense of longing for what you can't have pervades the whole work."
—The San Francisco Chronicle

Abraham.In.Motion returns to Wesleyan for the Connecticut premiere of Dearest Home (2017), Kyle Abraham's newest work. Comprised primarily of solos and duets, Dearest Home focuses on love, longing, and loss while showcasing six dancers' most vulnerable and intimate states of movement. Presented in the round, the audience has the choice to watch the performance with the soundscape playing through headphones, or in silence. The company previously performed the sold-out Connecticut premiere of Pavement at Wesleyan in November 2013.
Please note that there is no late seating for this production. Latecomers will be turned away. Come early to type a note about love, longing, and loss on typewriters in the lobby of the CFA Theater.
Abraham.In.Motion merchandise will be available for sale.
Dearest Home is approximately 65 minutes with no intermission.
The presentation of Dearest Home is made possible by the New England Foundation for the Arts' National Dance Project, with lead funding from the Doris Duke Charitable Foundation and The Andrew W. Mellon Foundation. This project is supported in part by an award from the National Endowment for the Arts.
Click here to see photos from this event.