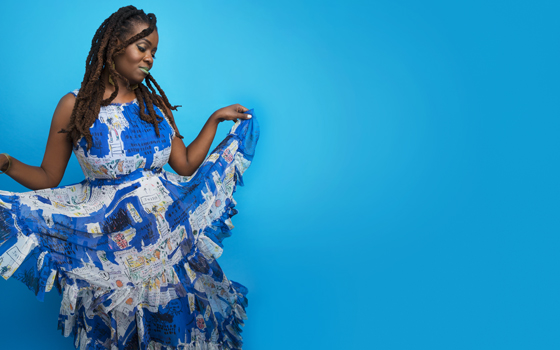 Somi
Friday, October 13, 2017 at 8:00pm
Crowell Concert Hall

$28 general public; $26 senior citizens, Wesleyan faculty/staff/alumni, non-Wesleyan students; $6 Wesleyan students, youth under 18 (Reserved Seating)
"Somi's songs gracefully fuse African-tinged grooves, supple jazz singing and compassionate social consciousness; they're both serious and seductive."
—The New York Times
Superb jazz chanteuse Somi blends modern jazz, African music, and the singer-songwriter tradition, combining the musical and cultural worlds that resonate with her as an African and American woman. An Illinois-born resident of Harlem, she is the daughter of immigrants from Uganda and Rwanda. Highly regarded as both a scholar and artist, Somi is a TED Senior Fellow and the founder of New Africa Live, a nonprofit that champions African artists.

At Wesleyan, Somi will be joined by Toru Dodo on piano, Keith Witty on bass, Nir Felder on guitar, and Sheldon Thwaites on drums.

Concert will be approximately 90 minutes with no intermission, followed by a post-concert discussion.