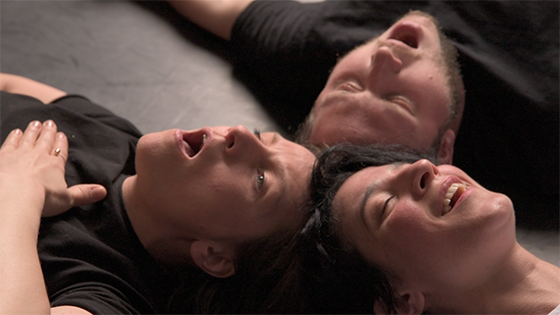 Judaica Workshop: Introduction to Songwork
Thursday, October 19, 2017 at 4:40pm
World Music Hall
FREE!
JUDAICA: EMBODIED LABORATORY FOR SONGWORK
Ben Spatz, Nazlıhan Eda Erçin, and Agnieszka Mendel
This workshop will introduce the extended songwork practice developed by the Judaica project. Participants will work with Jewish songs in a variety of languages and discover how the act of singing can transform bodies and spaces. We will explore relationships between harmony and rhythm, body and voice, individual and group, identity and technique. Co-sponsored by Wesleyan's College of Letters, Dance Department, Music Department, and Office of Religious and Spiritual Life.
Ben Spatz is Senior Lecturer in Drama, Theatre and Performance at University of Huddersfield; author of What a Body Can Do: Technique as Knowledge, Practice as Research (Routledge 2015); editor of the new videographic Journal of Embodied Research; and 2016-2018 UK Arts and Humanities Research Council Leadership Fellow with the project "Judaica: An Embodied Laboratory for Song-Action." Recent talks and workshops include "What is a song?" (The British Library), "Beyond Performer Training" (University of Kent), "Reading Grotowski in the Anthropocene" (University of the Arts Helsinki), and "Future Documents: Video Epistemology and Embodied Research" (University of Manchester; University of Aberdeen).
Nazlıhan Eda Erçin is a performer, researcher and educator, working at the intersection of practice as research, physical theatre, non-stylized somatic movement, gender and performance studies. She holds a BA degree in Sociology with a Minor in Political Science from Middle East Technical University (Ankara, Turkey), an MA degree in Performance Studies from Southern Illinois University Carbondale (USA) as a Fulbright Alumni, and is currently a PhD candidate in Drama/Performance Practice at the University of Exeter (UK) funded by College of Humanities International Studentship. Prior to her PhD research, she worked with ODTU Oyuncuları / METU Players (Ankara), Ankara Sanat Tiyatrosu / Ankara Art Theatre (Ankara), Cornerstone Theater Company (LA) and Double Edge Theatre (Massachusetts) where she developed a growing interest in body-centered performance methodologies.
Agnieszka Mendel is a singer, actress, ethnologist, voice and theatre teacher. She is fascinated by the possibilities of the human voice and uses songs from many cultures to search for vocal techniques and emotionality. She has trained in Hindustani Vocal Music at Shriram Bharatiya Kala Kendra in New Delhi and at the Natural Voice Perfection Institute. For 15 years she was closely associated with the Gardzienice Centre for Theatre Practices in Poland where she played leading roles in the performances Metamorphosis, Elektra, Ifigenia in A..., Ifigenia in T...,and Pythian Oratorio, and conducted many workshop sessions for actors and singers from around the world. Poet and composer, co-author and performer of her own music and theater projects, she is the beneficiary of several artistic scholarships and awards for achievements in the arts and the protection and promotion of cultural goods.
For more information, additional events, and multimedia documentation, please visit: www.urbanresearchtheater.com
The Arts and Humanities Research Council (AHRC) funds world-class, independent researchers in a wide range of subjects: ancient history, modern dance, archaeology, digital content, philosophy, English literature, design, the creative and performing arts, and much more.  This financial year the AHRC will spend approximately £98m to fund research and postgraduate training in collaboration with a number of partners. The quality and range of research supported by this investment of public funds not only provides social and cultural benefits but also contributes to the economic success of the UK. For further information on the AHRC, please go to: www.ahrc.ac.uk