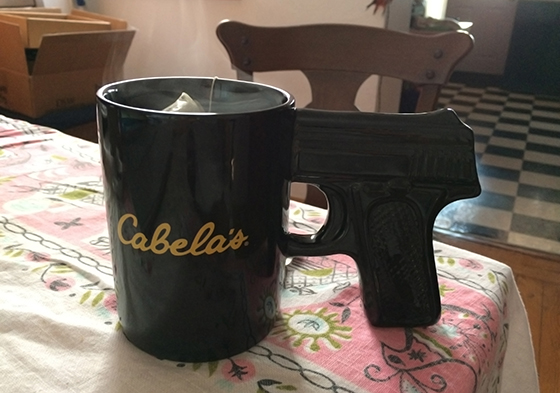 Opening Reception: UP IN ARMS
Friday, October 27, 2017 at 5:00pm
South Gallery, Ezra and Cecile Zilkha Gallery

FREE! Open to the public.

UP IN ARMS presents a number of perspectives on the image and impact of guns in contemporary culture, though none endorse them as a means to an end. Works by fourteen artists touch upon a host of issues surrounding access to and the use of firearms, examining and representing the role that guns continue to play in our national mythologies and pathologies, suicide and homicide rates, domestic violence, and mass media. 

Susanne Slavick is Guest Curator for UP IN ARMS. 
This exhibition is being presented in conjunction with Wesleyan's annual Shasha Seminar for Human Concerns, which will be focused on "Guns in American Society" on Friday, October 27 and Saturday, October 28, 2017. For more information, please click here.

Opening Reception: Friday, October 27, 2017 from 5pm to 7pm. There will be remarks by Guest Curator Susanne Slavick at 6:15pm.
Exhibition on display through Sunday, December 10, 2017. Closed Monday, November 20 through Monday, November 27, 2017. 

No handguns or other firearms (even if all permits, licenses and registrations are up to date and available), explosives, or weapons of any kind are allowed on the Wesleyan campus at any time and for any reason whatsoever.

Image: Dadpranks (Lauren Goshinski, Kate Hansen, Isla Hansen, Elina Malkin, Nina Sarnelle and Laura A. Warman), Echinacea Plus, Cold Defense, 2015, digital photograph on Hahnemühle paper, 9.4 x 6.6 inches.
Click here to see photos from this event.